Anaheim, Calif. — Troy Glaus felt young again.
"This is why we put all the time and effort in," he said, recalling a time long ago. "All the swings against the garage door when you were a kid."
"At this point, I don't even really know how I'm feeling except ecstatic," he said.
Glaus is the Anaheim Angels' fire, the one who throws tantrums in defeat. He flings his helmet, his bat.
He's not going to toss the World Series MVP trophy.
When he was told he won the award and beat out Barry Bonds, it really didn't sink in.
"I was just so excited about being world champion," he said after Anaheim's 4-1 victory Sunday night over San Francisco in Game 7. "I didn't even really know what to think. They told me to go stand on the stage, so I went and stood on the stage. That was about it."
And when the championship was securely in the Angels' hands, what made him happiest was coming through for those halo-wearing, monkey-waving fans, some coming to games for four decades, hoping for this moment.
"These fans have been waiting a long, long time for this," Glaus said. "And I know we're all happy to be part of the team to bring it to them."
Glaus, the AL home run champion two years ago when he hit 47, symbolized a team that came back to win the World Series following a 6-14 start, bringing the trophy to Anaheim for the first time in the Angels' 42 seasons.
He was knocked down by Jason Schmidt in Game 5.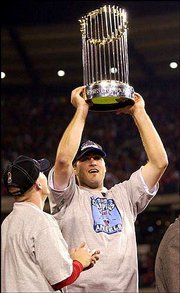 He was knocked down by Russ Ortiz in Game 6.
He bounced back up both times, just the way the Angels did in the Series.
"Actually, we've had that way of thinking all year," Glaus said. "No matter what we came up against, we were going to play hard and leave it all out there, and that's what we did here."
On a team where many players stood out, Glaus had the most consistent Series, batting .385 (10-for-26) with three doubles, three home runs and eight RBIs.
He homered twice in Anaheim's opening 4-3 loss and hit a two-run drive in Game 4, another 4-3 defeat.
His biggest hit didn't go over the wall, but instead swung the momentum of the Series.
When he came up in the eighth inning of Game 6 Saturday night, with the Angels having clawed back to 5-4 after trailing by five runs, his two-run double off Robb Nen sent the Angels on to a 6-5 win and gave them life when they could have been going home.
Perhaps because the 26-year-old third baseman from Tarzana has 20-12 1/2 vision (with contacts), he was among the first to envision a World Series title in Anaheim. Maybe, he could see it because he's been a Southern Californian his whole life, becoming a big baseball star at UCLA.
"I think the feeling would be tremendous no matter where we were," he said, "but for me to be at home, my friends and family get to be here. They've all been a part of it. For them to be watching, and the fan support and everything unbelievable."
He didn't do much in Game 7, going 0-for-2 with a pair of walks, but he turned the Series around Saturday. Without his big hit, maybe there's no title. Maybe Anaheim never even gets to Game 7.
"He's not overlooked in my eyes," Angels manager Mike Scioscia said. "Troy Glaus stepped up and did what big-game players do in series like this. The hits he got for us were just incredible."
Copyright 2018 The Associated Press. All rights reserved. This material may not be published, broadcast, rewritten or redistributed. We strive to uphold our values for every story published.