Now that individual investors have spent close to three years losing money and they could really use some guidance, where should they turn? Well, over in the advice arena, financial planners have decided this is the time to duke it out with brokers.
The fight is not about who gives the best investment advice. Each side already thinks it is the winner in that one.
No, this fight is about turf. It's about the rules governing those who give you investment advice and who is in charge of them.
The flashpoint right now is which group has the right to use the latest technology to wow its clients.
It's those hot, interactive investment analysis tools that are at issue. This includes the online financial planning systems such as the ones offered by Financial Engines or passed on to customers by financial institutions such as T. Rowe Price and Fidelity.
These tools are growing in popularity because they give an almost scientific sheen to the art of investing. Financial Engines, for example, uses an elaborate online system for simulating thousands of market scenarios to transform all your personal portfolio information into a prediction of how likely you are to reach your retirement goals or run out of money.
Brokers can't use tools
Brokers can't offer interactive investment advisory tools to their customers, however, in part because these tools are so specific. Under federal rules, broker/dealers, whose job is centered around the investment product and the transaction, are only allowed to give general investment guidance and to use hypothetical illustrations. They can't hype or guarantee anything, as a protection for consumers against fraud.
Most traditional brokers, in fact, will not make specific projections for what will happen to your money.
Certified financial planners, on the other hand, do tell you what's likely to happen with your investments. They spend their days making detailed plans tailored to each client.
Since they focus on the process of investing, federal law allows them to give clients their input on how likely a plan is to turn out.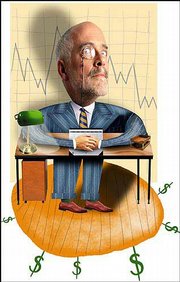 Association proposes new rules
In August, the National Association of Securities Dealers proposed changing all that.
NASD's board voted to make new rules allowing brokers to use the interactive investment tools. In short order, the Financial Planning Assn. filed strenuous objections.
If brokers want to use those sophisticated tools, planners argue that the Securities and Exchange Commission should first look at whether brokers also should start following the same federal law that investment advisors must follow.
That's the rub and always has been.
Simply put, brokers have one set of federal rules and investment advisors have another.
You probably didn't know that. It's not what most people ask about when they're looking for investment advice.
If you want guidance on how to choose an adviser, NASD and the Financial Planning Assn. offer online consumer education features at www.nasdr.com and www.fpanet.org.
But in troubled times like these, an investor with a decimated portfolio may wish he had known the rules and responsibilities imposed on the person who told him what to do.
Essentially, broker/dealers are regulated by their industry's self-regulatory organization as well as the Securities and Exchange Commission.
Most financial planners, on the other hand, have to follow the federal Investment Advisors Act of 1940 as well as the SEC. State governments oversee both groups.
Under the Investment Advisors Act, financial planners who are investment advisors have a fiduciary duty, which means they must put the client's interests ahead of their own.
They also have to disclose any conflicts of interest, and they must tell their clients how they earn their money, whether from fees or any sort of commissions from investment products that they sell.
Most brokers, by comparison, do not have to register as investment advisors. If offering advice is only incidental to their main business, which is trading securities, then they have an exemption from the Investment Advisors Act.
Brokers do, however, have to comply with rules from NASD, which was authorized by Congress in 1938 to do this job. The SEC oversees NASD in this process. And the exchanges, too, govern brokers' conduct.
NASD requires broker/dealers and their agents to know their customers and to recommend suitable investments. The rules also require ethical conduct and that the customer's best interest be the brokers' guiding reason for any action.
They are also urged by NASD to avoid conflicts of interest and that drumbeat, begun by New York Atty. Gen. Elliott Spitzer, is getting louder and louder.
The trouble is this line between broker/dealers and investment advisors is getting fuzzier all the time to some investors. Probably, planners are feeling threatened.
Then again, the planners were the first to tell investors that they need professional planning advice. Brokers seem to have taken their cue from the success and growth of the financial planning profession.
Copyright 2018 The Lawrence Journal-World. All rights reserved. This material may not be published, broadcast, rewritten or redistributed. We strive to uphold our values for every story published.