LITTLETON, COLO. — No one who survived the Columbine High School attack had a closer look at events leading up to the tragedy than Brooks Brown.
On April 20, 1999, the 18-year-old saw fellow senior Eric Harris outside the suburban high school moments before Harris and Dylan Klebold launched an assault that left 12 students and one teacher dead before the gunmen committed suicide.
Harris warned Brown to leave and go home.
More than three years later, Brown still doesn't know whether he took the warning seriously or just wanted to take some more puffs on a cigarette.
"I ditched a lot of classes in high school. I am pretty sure I did what I was going to do anyway until I heard the gunshots," Brown said.
In a new book, Brown talks about what happened at Columbine and how he became a suspect in the killings. "No Easy Answers: The Truth Behind Death at Columbine" was released this week by Lantern Books. Much of it is written in the first person.
"It is everything as it happened from my perspective: the way I think, and the way Eric and Dylan thought," Brown said.
Though there are no revelations, the book supports the claims of Brown, his parents, Randy and Judy, and other Columbine relatives and victims, that Harris and Klebold gave ample warning of their intent. The book also argues that Harris and Klebold were victims of bullying in high school and that the media and others were too quick to blame violent videos and music for the teens' actions.
School officials have steadfastly denied that bullying was a major problem. But independent investigator Regina Huerter of the Denver district attorney's office confirmed in a report that bullying occurred at Columbine.
The book also gives considerable insight into what the two killers were like, including recollections of the author, his parents and his brother, Aaron, who fled the cafeteria when Harris and Klebold began their assault.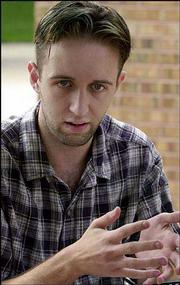 'Perspective no one else could'
Brian Rohrbough, whose son, Daniel, was one of 13 victims killed, said he was glad Brown wrote the book. "He gives a perspective no one else could. It won't answer all the questions. It does show a side you cannot get anywhere else," Rohrbough said.
Brown wrote the book with Rob Merritt, city editor of the Times-Republican of Marshalltown, Iowa. A former education beat reporter, Merritt had become fascinated with events at Columbine before he met Brown online and established a friendship.
"It was very difficult, emotionally like drowning," Merritt said. "It is difficult to be immersed in that for more than a year." Merritt said he was particularly moved by meeting Richard Castaldo, who was left paralyzed by the assault, and visiting the grave of Rachel Scott, one of Brown's friends.
"Meeting Richard and standing over Rachel's grave tore my heart out," Merritt said.
For Brown, it was more of a catharsis. "We are really proud of this book," he said.
Brown and Klebold attended elementary and middle schools together and belonged to the same Cub Scout pack. "I couldn't have asked for a better pal in grade school than Dylan Klebold," said Brown, who befriended Harris when they were freshmen at Columbine.
Development of threats
Judy Brown remembers Klebold as a sensitive, caring child, who had trouble speaking up for himself. Harris, she says in the book, "held grudges and couldn't let them go. It was not normal behavior for boys. Boys usually speak up, say what they have to say, and that's that."
When Harris and Brooks feuded over rides to school, Harris posted a death threat against Brown and others on the Internet. It said: "I don't care if I live or die in the shootout, all I want to do is kill and injure as many ... as I can, especially a few people like Brooks Brown." Because both boys wanted to be friends with Klebold, they made up shortly before the assault.
Meanwhile, Randy and Judy Brown reported the threats to the Jefferson County sheriff's office.
After the attack, when the Brown family told the news media that they had informed investigators of the death threats made by Harris, Brooks Brown was named a suspect by the same sheriff's department that had failed to act on the information. The sheriff's office cited the warning Harris had given Brown to flee the school. The FBI had already cleared Brown of any involvement.
It was later revealed that investigators used information given by the Browns to obtain a search warrant of the killers' homes after the attack.
In the years since the tragedy, Brooks Brown has struggled. He skipped college and has had trouble keeping a job. He still has strong feelings about what led Klebold and Harris to become killers, laying the blame on school administrators who he said ignored bullying.
"I don't believe anything justifies what they did," the author said. "I believe they were as much victims as anyone else, though. They died, too. They got no chance to live their lives out, and it was because of that school, the environment they lived in."
Copyright 2017 The Associated Press. All rights reserved. This material may not be published, broadcast, rewritten or redistributed. We strive to uphold our values for every story published.