On McCovey Cove, Calif. — These Giants fans wore life preservers and several layers of clothing.
They came by schooner, kayak, surfboard and raft. Some came to party, others hoping to catch a ball. And though they didn't see a single pitch, they were a big part of the World Series scene on a chilly Tuesday night at Pacific Bell Park.
Dozens of boaters and floaters, including one beer-drinking guy on an inflatable yellow dinosaur and three Elvis impersonators on a speed boat, spent the night on the murky gray-green water of McCovey Cove, where Barry Bonds home runs occasionally go splash.
A shirtless David Brandenburger wore bright orange Hawaiian shorts as he zoomed around on jet skis. Despite the weather, which felt much colder on the cove than the game-time temperature of 57 degrees in the stadium, he was prepared to get even colder if a home run ball came his way.
"If a ball comes near me, I'll get wet. The odds of getting a ball out here are a lot better than the 40,000 fans paying $500 apiece," he said. "I'm here to be part of the scene, catch a buzz, catch a ball."
Brandenburger went home disappointed on two counts the Giants lost, 10-4, and no one hit a ball into the cove. Bonds did hit a long homer, but it went over the center-field wall.
Many in McCovey Cove not the guys on their surfboards and in wetsuits enjoyed Tony Bennett's trademark "I Left My Heart in San Francisco" and stood at attention as he sang "America the Beautiful." Kayakers looked to the sky as Air Force jets streaked by in a flyover
Several McCovey Cove denizens sang "Take Me Out to the Ballgame" with the crowd in the seventh inning.
Those in the cove, which is about 10 feet below field level, could not see inside the park. But some were in position to see the giant center-field scoreboard, or simply listened to the crowd's reaction. Others watched on small TVs.
When Benito Santiago's RBI groundout gave the Giants a 1-0 lead in the first, the cove exploded in a cacophony of ship bells and fog horns. It was quieter two innings later when the Angels took a 4-1 lead.
Sea lions cavorted just outside the cove, where the fare ranged from hot dogs to wine and cheese. The bigger boats had portable barbecues and kegs.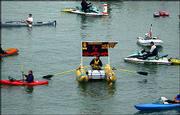 Bill Seib, 67, wore a scuba suit as he paddled around in his 12-foot teal kayak. The semi-retired iron worker had one regret there were no bathroom facilities nearby.
Mike West arrived in his whitewater raft six hours before the game, equipped with a pair of oars, three layers of heavy clothing and a cooler with sandwiches, peanuts and what he insisted was nothing stronger than fruit juice to keep him warm.
West took a day off from his job as a glazier in San Jose to row around the cove, hoping a ball would come flying in his direction. He had a fishing net ready, as well as his junior high mitt.
Even though his only way of following the game was on a Walkman, he watched fans along the right-field arcade and heard the cheers from the stadium.
"It's fun, because you still feel the energy of the crowd," he said. "The excitement will kick in, and I'll stay warm."
The inlet off San Francisco Bay, named for former Giants slugger Willie McCovey, has earned a reputation for creative occupants.
"There's weird stuff happening out there all the time. You'll see people in inflatable wading pools, people with dogs waiting to chase home run balls," said Alfonso Felder, transportation manager for the Giants.
"We've seen a putting green floating out there, barbecues towed by vessels. We've had weddings out there."
Copyright 2018 The Associated Press. All rights reserved. This material may not be published, broadcast, rewritten or redistributed. We strive to uphold our values for every story published.