IRVING, TEXAS — Emmitt Smith's right arm was dangling. The thigh pad wrapped under his shoulder pads for extra cushioning wasn't helping and the painkiller he'd taken at halftime couldn't relieve the agony of a separated shoulder.
"I'm fine," he lied to teammates, coaches and trainers.
"Get out," he told the backup who tried replacing him.
On Jan. 2, 1994, in a game that meant everything, Smith proved he can carry a team when it matters most.
His performance: 229 total yards and a touchdown on 32 carries and 10 receptions, the heaviest workload in team history, leading the Dallas Cowboys to a 16-13 overtime victory against the New York Giants and propelling them to a second straight Super Bowl title.
Nine seasons later, that game remains the defining moment of his career. It cemented his status as an elite player, a reputation that will be enhanced when he gains 93 more yards and becomes the leading rusher in NFL history.
"I don't know if it was my greatest game," Smith said recently, "but it was one of the most important and one of the best because of what I did under those circumstances."
The Cowboys and Giants were both 11-4. The winner got the NFC East title, home-field advantage in the playoffs and a first-round bye. The loser got a wild-card game the following week.
The Cowboys started the season 0-2 while Smith and team owner Jerry Jones squabbled over a contract. Then Smith signed a $13.6 million, four-year deal and Dallas won seven straight.
He ran for a career-best 237 yards against Philadelphia and went into the Giants game nearing a third straight rushing title, a feat matched only by Earl Campbell, Jim Brown and Steve Van Buren. Nobody had ever won a rushing title after missing two games.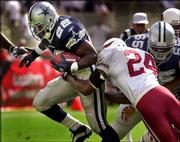 Smith knew the stakes.
"He had fire in his eyes in warmups," the late Mark Tuinei, a starting lineman, said after the game.
Smith had a Grade 1 separation, the lowest degree. More pounding could've worsened it, possibly requiring surgery.
He didn't care. He had trainers concoct extra protection and went back out because, as he said later: "I've heard about guys playing hurt. I wanted to play hurt and be effective."
To help Smith endure the stabbing pain, Troy Aikman lowered handoffs and passes. Lincoln Coleman tried replacing him once, but Smith sent him away.
"He was real stubborn," former fullback Daryl Johnston said. "I don't think anybody was going to be able to make a point that would get him off the field at that time."
Smith remained Dallas' first option. He got the ball on eight of 16 snaps over the third and fourth quarters.
"We couldn't believe he was playing," said then-Giants coach Dan Reeves. "A lot of people can play with an injured shoulder, but a running back is unbelievable."
Copyright 2018 The Associated Press. All rights reserved. This material may not be published, broadcast, rewritten or redistributed. We strive to uphold our values for every story published.