Chicago — McDonald's Corp. reported an 11 percent drop in earnings Tuesday, its seventh decline in the last eight quarters, and said it will reduce new restaurant openings by nearly half next year as it seeks to end its slump.
The fast-food giant, struggling amid the glut of U.S. restaurant competition and perceptions of poor service, among other problems, also said it needed a "significant improvement" in sales if it was to meet its full-year earnings target.
But Wall Street was encouraged by McDonald's announcement that it was putting slower expansion on its plate. Shares climbed 65 cents to close at $18.95 in trading Tuesday on the New York Stock Exchange after having sunk to a seven-year low of $15.75 on Oct. 10.
The Oak Brook, Ill.-based company said it now plans to open 600 traditional McDonald's restaurants worldwide next year, down from 1,050 in 2002, including a significant reduction in the United States.
It also will step up its investment in the other chains it owns and expects to open 150 to 175 of those restaurants in 2003, including 140 new Chipotle Mexican Grills, which had 212 restaurants as of Sept. 30.
Net earnings for the third quarter were $486.7 million, or 38 cents a share, down from $545.5 million, or 42 cents a share, a year earlier.
Results continued a McDonald's trend of lower earnings in comparison with the year-earlier quarter a trend that had been interrupted temporarily in the second quarter with a 13 percent increase in profit over the prior year.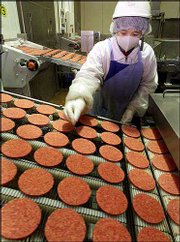 The results met analysts' consensus estimate, compiled by Thomson First Call and lowered last month after McDonald's warned it wouldn't meet its quarterly target. Revenues rose 4 percent to $4.05 billion from $3.88 billion.
Systemwide sales, which include both company-operated and franchised restaurants, rose 3 percent to $10.91 billion from $10.63 billion. But sales at stores open at least a year declined in the United States, Germany, Britain and Japan all of its five biggest markets with the exception of France.
"This year certainly has proven to be even more challenging than we had anticipated,'' said chairman and CEO Jack Greenberg. He said the company, however, has noticed some improvements recently, including a rise in U.S. sales since McDonald's launched its nationwide dollar menu this month.
Asked about reports McDonald's plans to lay off several hundred administrative employees, Greenberg on a conference call said "it is likely there will be some job loss" once a review of worldwide expenses is completed. "We hope it won't be significant, but we don't know yet."
McDonald's last year cut about 700 jobs as part of a reorganization of its U.S. operations, affecting both its headquarters staff and at regional offices.
Lawrence has four McDonald's restaurants and one Chipotle Mexican Grill.
Copyright 2018 The Associated Press. All rights reserved. This material may not be published, broadcast, rewritten or redistributed. We strive to uphold our values for every story published.