A businessman with ties to the Prairie Band Potawatomi wants to build a nine-hole public golf course on the Haskell Indian Nations University campus.
"I think it would be a great thing for Haskell," said J.B. Cisneros, who manages several businesses a convenience store, RV park, gift shop and bingo hall owned by the Prairie Band Potawatomi.
Cisneros, who last year founded the Native American Junior Golf Assn., estimated the 65-acre course, clubhouse and driving range would cost about $3 million, which he said he hoped to raise through grants, donations and sponsorships.
"The first thing we're going to do is conduct a feasibility study," he said.
Cisneros' plan calls for building the golf course on Haskell property south of the Powwow Grounds. "There are 70 to 80 acres back there that could be used," he said.
Cisneros, 41, graduated from Haskell in 1982. He's currently taking communications classes at Kansas University.
An avid golfer, he met last week with Haskell's Board of Regents, presenting the group with a rough draft of his proposal.
"I love the game of golf," he said, "and I really want to do something to give back to the community."
His efforts, he said, are backed by the Native American Junior Golf Assn.'s governing board, which includes:
l Steve McDonald, a member of the Professional Golf Assn. since 1987. He works for Harrah's Prairie Band Casino near Mayetta, Kan.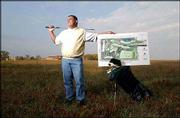 l Ralph Simon, legal counsel for the Prairie Band Potawatomi.
l Randy Conroy, a former professional golfer who's now a casino consultant for the Prairie Band Potawatomi.
Though it's unclear how revenues generated by the golf course would be divided, Cisneros said the arrangement would be a "win-win situation for everyone involved."
He added, "All that's something we can negotiate."
As yet, neither the Haskell Board of Regents nor the Wetlands Preservation Organization has endorsed the proposal.
"A presentation has been made, but at this point no action has been taken. No position has been taken," Haskell spokeswoman Freda Tapedo said.
"We've heard about it," WPO spokeswoman Anna Wilson said, "but that's about it."
Cisneros said the course would not impose on sites considered sacred.
Copyright 2018 The Lawrence Journal-World. All rights reserved. This material may not be published, broadcast, rewritten or redistributed. We strive to uphold our values for every story published.