You could see the sadness in Ali Gotte's eyes, which were often downcast when she arrived at South Junior High School in the mornings.
You could hear the pain in her screams that leaked from the closet-size room at South where she was regularly confined during the day.
School the past two months for the severely autistic 12-year-old was a nightmare.
That ended Tuesday when Ali's mother removed the girl from the Lawrence school district.
"It's finally over," said Leslie Gott, a single parent raising Ali and her younger sister, Skylar.
"I knew she wasn't happy there. It's only so long that I can allow my daughter to go through hell," Gott said.
The Lawrence district has a reputation as one of the best in the state for children such as Ali who require special care and attention. But the young girl's case and the frustrations experienced by her, her family and school officials illustrates the difficulties public schools face when trying to educate children with serious disabilities. Some, such as Ali, sometimes display aggressive behavior.
Ali's mother said she was told by one school official that children "sometimes just slip through the cracks" of the system.
Ali is perhaps an example of one who did.
Better away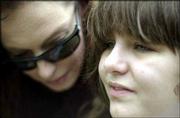 Gott said Ali spent several days at home last week due to a minor illness. That time away from school let Ali reach a level of calm that she hadn't had since August. It convinced Gott that she couldn't send her daughter back to South.
"The longer she was away from the situation, the better she was," Gott said.
Autism is a lifelong neurological disorder with no cure. Children with autism may not respond when talked to, may fail to make eye contact and can be unusually sensitive to sounds or touch.
About 60 students with autism enroll annually in Lawrence public schools. Children like Ali test the boundaries of a public school district's ability to meet its legal obligations to educate all children, even those with disabilities.
Ali's difficulty making the transition from sixth grade at Cordley School to seventh grade at South had ignited an ugly battle between Gotte's family and school district officials about the appropriate way to educate the 12-year-old girl with the complex disorder.
"They knew how severe her autism is," Gott said. "They weren't ready."
Gott, whose children use a different spelling of her last name, said the experience at South was more difficult than necessary for Ali because the junior high school staff and district special-education administrators didn't prepare for her arrival. She said she also was angry that shortcomings in staff training and programs evident when classes started in August never were resolved.
Ali reacted by reverting to odd social behaviors she had struggled years to overcome, her mother said.
"Everything was back to the point that the slightest things that are different will cause an enormous reaction," her mother said.
Difficulty adjusting
South Principal Russell Blackbird said Ali's profound disability was a unique challenge for his school. He said South struggled at the start of the year with "miscommunication" at the school regarding Ali's needs. That was cleared up and progress was being made with Ali, he said.
Ali also had been assigned a new special-education teacher at South because the first one declined to work with her.
"We had a teacher who had difficulty adjusting," Blackbird said.
Training specialists with Community Learning Opportunities, under contract with the district, had been called to South to instruct staff on appropriate strategies for severe autistics.
"We have a lot of resources in place," now, Blackbird said.
But Gott said her belief something good could be made of a bad situation at South began to fade after one of the district's special-education supervisors said at a meeting about Ali that sometimes children "just slip through the cracks."
Bruce Passman, the district's executive director of special education, told the Journal-World it would be improper for any school employee to tell that to a parent.
Passman, who declined to speak specifically of Ali, defended the district, saying most people couldn't grasp the day-to-day difficulties of educating children with disabilities.
"Kids with significant behavior disorders, even with autism, are really challenging," Passman said. "It's hard to design a transition program because kids are so different."
Gott said the best alternative was to transfer Ali to a different public school or private facility that's equipped to handle her.
But Passman said transferring students to institutional settings at district expense is an option rarely used.
"We want to protect the taxpayers' money," he said.
Class in a closet
Teamwork by educators and families is important when students with autism enter a new school, Gott said.
She said Ali's elementary school experience in Lawrence at Prairie Park and Cordley schools was excellent. In sixth grade at Cordley, Ali had a stable environment. She found comfort and pleasure at the elementary school. And the activities at Cordley reflected her home life.
"On the elementary level in the Lawrence school system, Ali's needs and abilities were more than adequately recognized," Gott said. "It was really good. She was thriving. It fell apart when she went to junior high."
In May, Gott attended meetings with district and school staff to begin preparing for what she anticipated would be a rough transition to South. Ali was given a tour of South by teachers. During the summer, Gott worked with home caretakers to make certain Ali's routine matched South's.
"We did our work. They didn't do theirs," Gott said.
On the first day of school, Ali was late, but had an otherwise uneventful day.
The second day, hell broke loose when Ali arrived at school just as the 600 other students were entering for class. She hadn't experienced that much commotion. The 5-foot-4, 100-pound girl reacted aggressively and shoved her mother into a wall while trying to flee.
South's school resource office, apparently unaware of Ali's autism, called for police backup and threatened to remove her from school in handcuffs.
Gott convinced South staff that wasn't necessary.
"She was fine after leaving the school," Gott said.
Gott said it was then that she understood the district had done little during the summer to provide autism training for special-education teachers, paraprofessionals and other employees who would interact with Ali at South.
She discovered South didn't have a classroom suitable for Ali. The girl, she said, was placed in a smelly, unpainted room no bigger than a walk-in closet. It was later painted.
"It does meet her needs," Blackbird said. "She's not in there all day."
But Ali made her dislike of that private classroom known through aggressive outbursts, her mother said.
"She didn't want to go back into that room (after) gym or swimming," Gott said. "They couldn't put two and two together."
Gott said another problem was the frequent change in special-education staff working with Ali. That revolving door is upsetting to children with autism.
"They're not learning from their mistakes," Gott said. "I fear more people will have to go through this."
Domino effect
Problems for Ali at South had a domino effect on the family at home, Gott said.
Gott's plan to return to the work force when classes started in August was derailed when Ali couldn't be effectively integrated into South. Ali wasn't allowed to stay at South for a full day for nearly a month, Gott said.
"They said they couldn't guarantee me that they wouldn't send her home during the day," she said. "What place is going to hire me knowing that?"
Gott said lack of family resources payments from an ex-husband recently dried up threatens to leave the family homeless.
Unemployed and desperate, Gott set up a relief fund for the family at Douglas County Bank.
"It's a never-ending fight with little certain weaponry except heart, soul, sweat and realistic faith in a child," Gott said.
If the family's situation doesn't improve soon, Gott may be forced to make another big decision. She can't allow Ali to be homeless. It may be necessary to place Ali in an institution.
"I'll fight it until all hope is lost," Gott said. "My goal is to keep Ali."
Copyright 2018 The Lawrence Journal-World. All rights reserved. This material may not be published, broadcast, rewritten or redistributed. We strive to uphold our values for every story published.