Jerusalem — In the evolving duel between Palestinian attackers and Israel's security forces, the small, secretive and resilient Islamic Jihad movement now says it favors car bombs that are far more powerful than the small explosive charges strapped to suicide bombers.
The tactic is a response to the tough security measures Israel has taken against suicide bombers who strike on foot, and it has the potential to greatly increase Israeli casualties.
For the second time in four months, Islamic Jihad attackers maneuvered an explosives-laden car up to a bus and unleashed a massive fireball.
In Monday's attack, two suicide bombers and 14 people were killed near the northern town of Hadera. In an almost identical bombing on June 5, 17 people were killed near Megiddo, 15 miles to the northeast.
In the same area, police foiled an attempted bombing Sept. 5 after tracking down a car loaded with 1,300 pounds of explosives, one of the largest bombs ever uncovered in Israel.
Islamic Jihad, which doesn't recognize Israel's right to exist, has carried out dozens of attacks in the past two years. But its bombers have often made mistakes blowing themselves up prematurely, getting caught before reaching a target, or detonating bombs in relatively uncrowded areas.
The other suicide bombing groups, Hamas and the Al Aqsa Martyrs Brigades, were getting deadlier results.
The car bombs have the potential to send the Israeli death toll skyrocketing.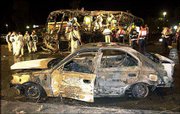 In the past two years, 79 suicide bombings have killed 292 people the deadliest in a packed hotel dining room in March, when 29 died.
In Israel's attempt to create an impenetrable shield, the army has patrolled Palestinian cities in the West Bank for the past four months.
Restaurants, cafes and shopping malls in Israel all have guards with metal detectors posted outside.
Armed guards ride buses. And now security guards in cars trail buses and scan the road for bombers. A security car was behind the bus Monday, but still had no chance of cutting off the bombers, officials said.
"When we saw that Israel's security measures were keeping people off buses, we had to find a new way," said an Islamic Jihad official, speaking on condition of anonymity. "We found that with the cars, we could load them with explosives and harm many people."
Copyright 2018 The Associated Press. All rights reserved. This material may not be published, broadcast, rewritten or redistributed. We strive to uphold our values for every story published.