Karkur Junction, Israel — A car packed with explosives pulled up to a bus in northern Israel during rush hour Monday, igniting a massive fireball that trapped passengers in the blazing bus and killed at least 16 people, including two suicide attackers.
About 45 people were wounded in the blast at Karkur Junction, several miles from the town of Hadera. The army said 15 of the wounded were soldiers. The body of at least one soldier was seen lying next to the bus.
The explosion unleashed intense flames that sent huge plumes of smoke into the sky and initially prevented police and rescue workers from approaching the bus. When the fire was extinguished an hour later, the bus and the car were reduced to blackened skeletons.
The militant Islamic Jihad movement claimed responsibility in a letter faxed to The Associated Press, in Beirut, Lebanon. The group said the attack was in "retaliation for the series of massacres committed by the criminal enemy against our people." It cited recent Israeli military operations that have resulted in Palestinian civilian deaths in the West Bank and Gaza Strip.
The bombing raised the prospect of tough Israeli retaliation, and Public Security Minister Uzi Landau called for disbanding of the Palestinian security forces. "We must not take our feet off the gas pedal and keep acting with the utmost thoroughness in all the pockets of Palestinian terror," he said.
The army's chief spokeswoman, Brig. Gen. Ruth Yaron, did not say what the likely response would be, but linked the attacks to the recent easing of curfews in some West Bank towns.
"We'll have to be very careful now; there are probably more ticking bombs on the way," she said. "We have to re-evaluate the situation and see if we have any information on where the next attack might be coming from."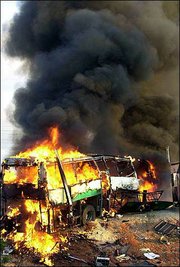 Israel has imposed curfews on hundreds of thousands in the West Bank's Palestinian cities for the past four months, a move that has brought a sharp decline in bombing attacks, but not their complete cessation.
Ron Ratner, a spokesman for the Egged bus company, said security officers in cars were trailing buses, watching for potential car bombs.
"There was such a vehicle tens of meters from the car bomb," he said.
A rescue worker, speaking on condition of anonymity, said there was also an armed guard on the bus, but there was nothing he could do.
Copyright 2018 The Associated Press. All rights reserved. This material may not be published, broadcast, rewritten or redistributed. We strive to uphold our values for every story published.