Pittsburgh — Benching Kordell Stewart for journeyman Tommy Maddox three games into the season seemed like an act of desperation. It might be the best move Pittsburgh Steelers coach Bill Cowher could have made.
Maddox threw two touchdown passes to Hines Ward to lead the Steelers to a 28-10 victory over the Indianapolis Colts on Monday night, looking as sharp and steady as a 10-year veteran rather than a quarterback who has barely played in the NFL since 1992.
"I'm having the time of my life," said Maddox, the former XFL star. "I'm not only doing this, but doing this with this group of guys. We just want to keep this rolling."
The Steelers were 0-2 and were heading toward what seemed to be a third straight loss until Maddox rallied them to a dramatic overtime victory over Cleveland. They have now won three of four.
"Now, you're seeing the real Steelers," Jerome Bettis said. "I won't say we've turned the corner, but we're right there at the stop light."
Maddox's ability to spread the ball among his receivers has revitalized the offense and gotten a previously stalled running game going, Ward said.
"We were 0-2 and people were writing us off," Ward said. "It's great to redeem ourselves."
Bettis scored on two short touchdown runs in the first half before leaving with a sprained left knee. Amos Zereoue replaced Bettis and ran for 87 yards, all in the second half. The Steelers also lost center Jeff Hartings to a left knee injury.
Hartings' injury is believed to be worse. Bettis said afterward he has no ligament damage, but would know more Tuesday.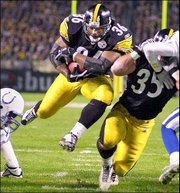 The Steelers, who opened a 21-0 lead, also were helped by their special teams for a change rather than hurt by them. The complete performance helped Pittsburgh (3-3) start to resemble the team that went 13-3 a year ago and was favored to win the AFC this season.
The Colts (4-2) lost to Pittsburgh for the ninth straight time.
Terry Bradshaw, the Hall of Fame quarterback who became estranged from the Steelers over the years, made a triumphant return to thunderous cheers during a halftime ceremony. Maddox, who lives only a mile from Bradshaw in Dallas, did a more than adequate imitation of his neighbor by leading Pittsburgh to touchdowns on its first three possessions.
"We were able to score early, and the offensive line, wow, you just can't say enough about them," Maddox said.
The Steelers' defense, shredded in embarrassingly bad early season losses to New England and Oakland, was again the disruptive, playmaking force it was last season, helped by the return of linebacker Kendrell Bell. The Steelers constantly forced Peyton Manning into hurrying his passes, often slamming into him as he delivered the ball.
Manning finished 32-of-48 for 304 yards, but he threw three interceptions.SH).
Copyright 2018 The Associated Press. All rights reserved. This material may not be published, broadcast, rewritten or redistributed. We strive to uphold our values for every story published.