San Francisco — Tim Salmon isn't getting any younger. He's only playing that way.
"I've been joking with Timmy during the entire postseason. He's been acting like he was 12," teammate Darin Erstad said late Sunday night. "Tonight, after the game-winning homer, he was acting like he was 8. He was giddy."
So were most of the Angels. So was most of Anaheim. After the Angels had wasted a 5-0 lead and fallen behind 9-7, they came back to tie the score at 9.
Then, with two outs and one on in the eighth inning, Salmon jolted Edison Field when he sent a pitch from San Francisco reliever Felix Rodriguez soaring into the night, an electrifying shot into the left-field bullpen at Edison Field.
It was the second two-run homer of the game for Kingfish, which gave him four hits and four RBIs and made him only the 13th player to reach base five times in a World Series victory.
The 11-10 win tied the Series 1-1 gave the Angels their first Series victory in the franchise's 42-year history.
"I knew the situation. I knew it was big," Salmon said. "You had a feeling it was going to come down to something like that, the way both teams were playing. That was something I've been dreaming about for a long time and watched it being done from my couch. It was unbelievable."
He even upstaged San Francisco's Barry Bonds, the biggest hitter in the game.
"It was too much Salmon," Bonds said. "I hate fish."
There were enough home runs and thrills to turn a curmudgeon into a jokester. Salmon hit two of the game's six homers.
"It was phenomenal," Bonds said. "He did everything any player could do in one day except steal home."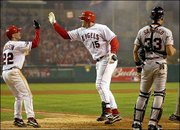 Salmon's 1,388 games had been the most among major leaguers without a postseason appearance. At 34, he is the senior Angel, and a week earlier it was Salmon who ran around the field with the AL championship trophy like a crazed kid.
The 1992 AL Rookie of the Year, Salmon is the Angels' career leader in homers (269) and RBIs. He had doubts about staying, but then signed a $40 million, four-year contract extension in March 2001.
He hit .227 last year with just 49 RBIs, struggling with an aching left shoulder as the Angels finished 41 games behind first-place Seattle in the AL West.
"That was probably the low point, no doubt," he said. "You wonder. I knew in my heart of hearts that I wasn't physically where I needed to be. But still, you get your head beat in for sixth months, that does take its toll, mentally, with your confidence and everything. You start wondering."
After his two-run homer off Rodriguez, he pumped a fist while running the bases. After the final out, he smacked teammates with high-fives.
"When he hits a homer and comes back into the dugout, you think about protecting yourself," Erstad said. "He hits you so hard."
Coming in, he was hitting .216 (8-for-37) in the postseason.
"In these games, you want to be able to come through in the situations," he said.
Copyright 2018 The Associated Press. All rights reserved. This material may not be published, broadcast, rewritten or redistributed. We strive to uphold our values for every story published.