Des Moines, Iowa — After being battered by Oklahoma, Iowa State's Seneca Wallace and his teammates got some consolation from Texas coach Mack Brown.
Wallace will lead the 17th-ranked Cyclones against No. 8 Texas in Austin on Saturday after enduring the most miserable game of his career.
Hyped as a leading contender for the Heisman Trophy, Wallace completed only four of 22 passes for 43 yards and was intercepted three times in a 49-3 loss at No. 2 Oklahoma last Saturday.
Much of the talk afterward centered on how much damage that game did to his Heisman hopes.
Brown knows about Heisman Trophy races because his running back, Ricky Williams, won the award in 1998. He thinks Wallace will be fine.
"I remember they threw Ricky Williams out a couple of times in his senior year," Brown said Monday. "To me, Seneca will be right back in the Heisman before the season is over. He's that good."
Brown also said he thinks Iowa State coach Dan McCarney will get his team back on track after its humbling loss, which dropped the Cyclones to 6-2 overall and 3-1 in the Big 12.
"Iowa State's had a great year," Brown said. "They ran into a buzzsaw on Saturday. They'll bounce back. Dan is as tough, as strong, as aggressive a personality as any coach in the country right now.
"Give Dan credit for turning that program around and making it one of the best in the country."
McCarney said he'll take Wallace aside this week and talk to him, but added he does that all the time just so he knows what his quarterback is thinking.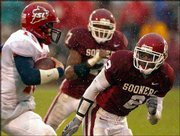 "He's a fabulous young man and a great competitor," McCarney said. "We're not going to wait for any sympathy cards. We can't expect any pity for Seneca or anyone else. It's time to move on. He didn't play well. Neither did anyone else on our offense.
"We were just nonexistent from an execution standpoint with our offense."
McCarney said Oklahoma pressured Wallace with some blitz packages it had not shown before and the defensive backs kept the receivers covered.
"The bottom line is their defense played at a speed our offense didn't play," he said. "We didn't block them. That secondary is as good as I've seen and coached against in a long time. Even when we had a chance to make a completion, they made some fantastic breaks on the ball."
Iowa State couldn't run the ball, either. The Cyclones netted only 17 yards in 23 attempts.
"They play defense with their hair on fire," McCarney said.
"They're a national championship-caliber football team and there's no question they're a national championship-caliber defense when you watch them play."
Copyright 2018 The Associated Press. All rights reserved. This material may not be published, broadcast, rewritten or redistributed. We strive to uphold our values for every story published.