DETROIT — Kmart Corp. has an aggressive timeline for emerging from bankruptcy protection as early as the first half of 2003, although analysts say the retailer's recent sales performance offers scant evidence the company is on a path to recovery.
The discount retailer also plans to complete a five-year business plan by the end of this year and file its reorganization plan with the bankruptcy court by Feb. 24.
Kmart Chief Executive James Adamson said the Troy, Mich.-based retailer has given a timeline to its board and creditors committees for emerging from Chapter 11 protection.
"This timeline is aggressive and will require a lot of hard work in a relatively short period of time, but should be doable," Adamson said in a statement. "I am as confident as ever that Kmart can emerge from Chapter 11 as a strong and viable competitor with a clearly defined niche in the discount retail sector."
Kmart filed for Chapter 11 protection on Jan. 22 following disappointing holiday sales and a steep decline in its stock price.
It has closed 283 stores as part of its restructuring.
Kmart Chief Financial Officer Al Koch said the company expects to see positive same-stores sales in 2003, after showing double-digit percentage declines in 2002.
Kmart's same-store sales declined 6.9 percent for the five-week period ended Oct. 2 compared with the same 2001 period. Same-store sales were down 13.8 percent in July from a year earlier and down 11.9 percent in August.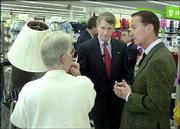 Kmart had sales of $1.97 billion for the four-week period ended Sept. 25 and a net loss of $176 million for the month.
Retail analyst Burt Flickinger III with Reach Marketing in Westport, Conn., said Kmart may be pressured to come out of bankruptcy early but he warned that it could be risky.
Bankruptcy protection affords Kmart the chance to rid itself of unprofitable leases.
With rival Wal-Mart Stores Inc. opening new stores, Kmart may need more time to evaluate its leases, Flickinger said. Also, vendors are more comfortable shipping under the debtor-in-possession financing, he said.
Flickinger said he anticipates Kmart will close 250 to 300 additional stores in the next fiscal year.
"The fact that they're still running negative after closing stores ... is cause for concern," Flickinger said.
Kmart operates a store and distribution center in Lawrence.
Copyright 2018 The Associated Press. All rights reserved. This material may not be published, broadcast, rewritten or redistributed. We strive to uphold our values for every story published.