Washington — The Pentagon will train thousands of opponents of Iraqi President Saddam Hussein to help in a possible invasion, under an order signed by President Bush, U.S. officials said Saturday.
Former Iraqi military officials are among more than 1,000 men the Defense Department already has vetted for training in combat and other skills, said the officials, who spoke on condition of anonymity.
The Pentagon also is looking at the names of more possible recruits, all recommended by the Iraqi National Congress, a London-based group of exiled opponents to the government that Bush wants to overthrow.
The first phase of training could begin next month under a presidential directive Bush signed this month allowing the Pentagon to use $92 million for the program, the officials said.
White House and Pentagon spokesmen declined comment.
Bush says he has not definitely decided to use military force to achieve his goal of "regime change" in Iraq. But the approval of money for opposition military training intensifies preparation for a possible invasion.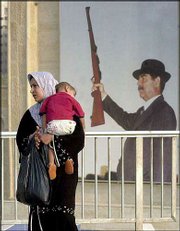 The White House and the Pentagon have recently shown far more interest in dealing with the INC amid preparations for military action to oust Saddam, who is believed to be developing weapons of mass destruction.
The Defense Department has been culling recruit lists from the INC and planning how much training they would get, who would do it, where, and other details.
Copyright 2018 The Associated Press. All rights reserved. This material may not be published, broadcast, rewritten or redistributed. We strive to uphold our values for every story published.