New York — As a child in Trinidad, Heather Headley remembers grabbing her hairbrush, sneaking into her father's church and singing the R&B; songs of her favorite artists Whitney Houston, Anita Baker and CeCe Winans.
Now, the star of "Aida" and "The Lion King" is making the transition from Broadway star to recording artist, and says she realized that the kind of R&B; she liked to sing inspirational ballads, heartfelt love songs isn't what gets played on the radio.
Instead, she hears bleeped-out curses, sexual references and an emphasis on the material, bling-bling world.
"All of a sudden, you sort of think to yourself, well, maybe this is what I should I do because it's this flood of sexuality and all this stuff," says Headley, 28. "So you have this fight in you all this time."
She chose to stick to the material and image she wanted which is part of the reason she titled her album, "This is Who I Am."
"I remember telling them in the beginning, there will be no cursing," Headley says in her soft voice, which still has traces of a Trinidadian accent. "I don't want to talk about what you can do for me, what I can do for you or our bodies or anything like that."
"I really didn't want the album to be focused on that kind of stuff."
Not that she had to worry too much. After all, Headley, who won a Tony Award for her role in "Aida," gained fame for powerful yet graceful performances in two of Broadway's most family friendly musicals. RCA Records wasn't planning on altering that image.
"She has real strong views on how she sees herself, as a role model in the community, and how she wants to present herself," said Steve Ferrera, senior vice president of A&R; at RCA. Ferrera signed Headley and served as executive producer of the disc.
Says Headley: "I remember kind of saying to the record company ... look, this is me, I've been on Broadway, I have had short hair, it's natural, this is my body, this is how I look, this is how I speak. I don't want to go into this other thing and compromise that for anything else."
Sticking to her guns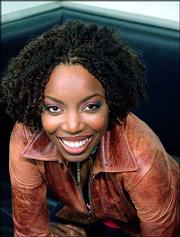 Producer James "Jimmy Jam" Harris, who with partner Terry Lewis contributed to the disc, says the singer "stuck to her guns, and I think that she has an album that's very lyrically consistent to who she is as a person."
"For a first-time artist, it's really important to do that," he adds. "You're trying to send that first message out there."
About the biggest change fans will notice is that Headley's signature short, natural hair has grown a bit longer she had extension twists put in a day before this interview, and the seven-hour process left her head hurting.
But even that change is not as dramatic as it could have been. Instead of flowing locks, she kept her hair bob-length.
"I wanted a look that was more natural," she says, adding that she had still not gotten used to it. "I keep passing myself in the mirror, like, AAAAUGHHH!!!"
Down to earth
Headley's down-to-earth attitude is shaped partly by her upbringing her parents were Pentecostal pastors who moved from Trinidad to Indiana when she was 15 (she also has a younger brother). While the stereotype of a preacher's kid is a wild child, Headley says she was pretty obedient sometimes.
"I was mischievous," she admits with a smile. "Calling people names in church you know, people are praying, and I'm picking gum out and putting it on little girls' braids. But we weren't awful."
She dreamed of being Whitney Houston, but she also had more practical plans for the future: She planned on becoming a lawyer. Her childhood fantasies of performing started to take shape, however, as she got older and more involved with theater in high school and then at Northwestern University, where she studied musical theater. She left college early to accept a role as an understudy in the musical "Ragtime."
That would lead to her role on Broadway as Nala in "The Lion King," and later, in "Aida." Although "Aida" made her a star and was a box-office smash, faint critical praise for the show made the experience less fun than it should have been.
"The sad part about it is that I never had a chance to enjoy it. Because at the time, the show didn't get nominated a lot," she says. "A lot of people were tough on it, and I never had the time to kind of go, 'Whoa, I'm enjoying this.' It was almost like I kind of kept it in the background."
Headley didn't even read her reviews, which were glowing. It's a habit she still practices for fear critics will influence her performance.
"I think you try to become what they like," she says. "If the reviewer said, 'I love it when she moved her hands,' all the time on stage you're just like" and she waves her hands around, laughing.
She's trying not to get too wrapped up in reaction to her latest project, either. The disc's first single, "He Is," has succeeded in getting airplay on adult contemporary and R&B; stations.
"It's funny how you pick up these little words, and it destroys your whole life," she says. "Like they tell you, 60 radio stations across America are playing your song, and you're like, 'What about the other one thousand?' You don't hear that these 60 are the R&B; stations ... and the other one thousand are rock ... and they're not going to play your stuff.
"And you're like, 'Why? Why aren't country stations playing it right now?' It's weird, my brain is a crazy thing," she laughs.
Copyright 2018 The Associated Press. All rights reserved. This material may not be published, broadcast, rewritten or redistributed. We strive to uphold our values for every story published.