New York — After 11 years of studying to be a scientist, Denton Kump did the natural thing: She became an accessories designer.
The career move might not be "natural" for other pharmaceutical researchers, but Kump says launching the Poesis collection sort of just evolved from her everyday life.
"I had been carrying a black nylon diaper bag for four years. I was sick of it, but when I went shopping for something different or fun, I couldn't find anything. After two or three shopping trips, I said 'Maybe I'll just make something. How hard could it be?"' Kump explains.
She admits now that it was harder than she thought. But once she sat at the sewing machine she learned to use as a child, she became determined to make a practical-yet-funky handbag to match her own personal style, which she describes as a little trendier than those of most 36-year-old working moms. That first bag took its inspiration from a case for 45 rpm records.
"I'm a clothes freak, but I was never particularly passionate about handbags," Kump adds.
That's all changed over the past two years.
Kump has opened a store in her hometown of Richmond, Va., and her purses are sold in more than 100 other shops all over the country and as far away as the Philippines. She was recently in New York to attend a trade show, previewing her resort collection, which now includes shoes, hats and, on a limited basis, men's ties.
When she first dipped her toe into the fashion world selling her brightly colored fabric-covered bags at the Virginia Museum of Fine Arts, Kump was able to keep her day job as a pharmaceutical researcher and do her sewing at night after her two sons went to bed.
In the summer of 1999 she brought the bags to the Atlanta Gift Show and landed 40 accounts. She knew it was time to make a decision. "I had to ask myself, 'Am I going to be a designer or a scientist?' The choice was made by my enthusiasm," Kump says.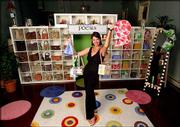 She first found a seamstress in Richmond to work with, then a factory in Virginia, and now she uses manufacturers in New York and California.
The signature traits of Poesis products are their graphic patterns and geometric shapes, including structured cube, rectangle and triangle purses. "I love the groovy," Kump says.
What was her parents' reaction to Kump's discovery of this part of her personality after helping her through so many years of school?
Her father, who is an architect, was very supportive from the start he's artsy, while her mother said, "Are you crazy?" Kump recalls. Her mom, she notes, has since come around and proudly sports her Poesis purse.
Kump says she hasn't abandoned science altogether. She works as a consultant because "I want to keep that part of the brain fresh," she explains.
And her company's name is a holdover from her scientific and academic days; Poesis means to create in Greek.
Copyright 2018 The Associated Press. All rights reserved. This material may not be published, broadcast, rewritten or redistributed. We strive to uphold our values for every story published.