Norman, Okla. — Oklahoma delivered a brutal blow of reality to Iowa State.
Quentin Griffin and Kejuan Jones each ran for two touchdown and No. 2 Oklahoma dealt a setback to Seneca Wallace's Heisman Trophy hopes in beating the ninth-ranked Cyclones 49-3 Saturday.
Oklahoma (7-0, 3-0 Big 12) outgained Iowa State 225-4 in building a 35-0 halftime lead against a team that had been averaging 432 yards and 39 points a game.
"It never seemed it would end," Iowa State coach Dan McCarney said. "We could never get in synch. We couldn't get any first downs. We couldn't get our defense off the field."
Iowa State (6-2, 3-1), in the top 10 for the first time, had been enjoying a dream season until running into a quick, swarming Oklahoma defense that frustrated the Cyclones at every turn on a dreary, rainy afternoon.
A victory would have vaulted the upstart Cyclones into the national championship picture. Instead, they fell to 1-35-1 against Oklahoma since 1962 and are now 0-47-2 against teams ranked in the top 5.
Oklahoma set the tone by blocking a punt for a touchdown on the game's fourth play and kept Wallace from making the kind of big plays that had sparked the Cyclones all season. The Sooners were so tough to crack that Iowa State couldn't score after recovering a fumble at the Sooners' 1-yard line late in the first half.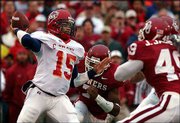 "We just got on him from the first play of game to the last play," Oklahoma linebacker Teddy Lehman. "We made it a point to not let him many any highlight runs on us."
Wallace, who had emerged as a leading contender for the Heisman with his sharp passing and elusive running, had trouble with the wet football, bouncing throws short of his receivers and overthrowing them on other plays.
Though he often had plenty of time to throw, Wallace didn't complete his second pass until the 13:00 mark in the third quarter and finished 4-of-22 for 43 yards and three interceptions.
Copyright 2018 The Associated Press. All rights reserved. This material may not be published, broadcast, rewritten or redistributed. We strive to uphold our values for every story published.