Doug Ecklund totes up 11 months of job searching with these figures about 1,000 rmsent out via e-mail, just two interviews in person, one over the telephone and zero offers.
But if the lack of success is discouraging, what irritates the systems analyst is the overall dearth of return communication. Only about 50 of his rmdrew a response, the rest netted nothing at all.
"We grew up in that era of where a courtesy was nice," said Ecklund of Huntley, Ill. "Most (recruiters and employers), if they do respond will send you back an automated response. 'We got your rmthank you for your letter, by the way, check out our Web site.' That's it."
Ecklund's frustration is all too familiar to the ranks of job hunters, now swollen by the recent economic downturn and waves of layoffs. More employers, deluged with rmand increasingly leaving it to computers to sort through them all, are abandoning the courtesy letter and the polite callback as quaint, but outdated customs.
When the obituary is written for the courtesy note, technology will be listed as the cause of death. Many companies now use computerized rmanagement systems to scan, store and auto-respond to inquiries. Internet job boards like Monster.com and Hotjobs.com let job seekers spot and instantaneously reply to dozens of listings in just a few minutes.
But the decline of the courtesy note is about people as well as machines. The economic downturn has left many more people searching for work, and corporate cutbacks have included reductions in the very personnel and recruiting departments charged with handling the tide of rmand cover letters.
"This is how rude the workplace has gotten," said Robin Ryan, a Seattle-based career counselor, who blames the lack of responses on corporate cost-cutting and the tide of applicants.
"You come in for an interview and they ... just leave you hanging. You usually have to call them back," she said. For many companies, "I really think it's the 37 cents. It's gotten so expensive that they choose not to do it."
But some employers, who note that they do try to respond to all inquiries, point out that they're swimming in rm
Abbott Laboratories, for example, says its personnel department has received about 200,000 rmso far this year, roughly double the number for all of 2001. Microsoft Corp. says it is getting 45,000 rmeach month, up from about 20,000 a month two years ago and 30,000 a month last year.
Both companies say they have policies of replying to all rmwith at least an automated response sent by a computer via e-mail.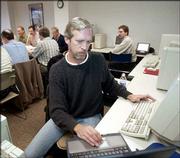 "Every person who enters a rmets some kind of a response," said Melissa Brotz, an Abbott spokeswoman. It doesn't always work that way at other companies, though.
"Hopefully companies have a system set in place to deal with incoming rm" said Kristin Bowl of the Society for Human Resource Management, an industry group for personnel officers. "However, some companies make a policy that they don't respond to rmthat come in if they haven't posted a position... They get so many of those they just can't keep up with the volume."
Even when the boom economy had employers eager to hire, the courtesy letter was hardly a given. Just 45 percent of companies surveyed in 1999 by SHRM said they responded in writing to unsolicited rmand 14 percent said such rmwent into the trash. A quarter of the companies surveyed said they scanned incoming rminto a computer.
But the role of computers in processing and responding to rmhas increased substantially since then, experts say. That is particularly true at large companies, many of which now direct applicants to apply via the Internet.
"What happens is any rmhat comes in over the Web automatically gets tucked into a human resource management system and never gets a human eye," said Peter Weddle, author of "Weddle's Job Seeker's Guide to Employment Web Sites."
Recruiters then use key words say "bookkeeping" or "marketing" to search the database for candidates who may fit their hiring requirements. Those that don't may never get even a first look.
The sea of applications has deepened because many job seekers have turned into what Weddle calls "graffiti applicants" sending out multiple electronic cover letters and rmto employers, frequently for jobs they're not qualified to do.
"Everybody can just press 'send,' 'send,' 'send,"' said Kate Wendleton, president of The Five O'Clock Club, a New York career counseling firm. "You have to assume you're not going to get called in. You have to find some other way in."
That advice is repeated as gospel by career counselors and the people they advise. Jobseekers increasingly assume that, without a personal connection, they're not going to hear anything from many employers, even in the form of computer-generated "thank you" notes, said Kathy Andre of The Career Place, a publicly funded employment office in Woburn, Mass.
Tracy Vachon, a Westford, Mass. marketing executive who lost her job last year, says she tries to play the game both ways, posting her rmo corporate Web sites mostly as a formality even as she tries to make connections inside companies to make sure her application gets an audience beyond the computer.
Many jobseekers, frustrated that their rmare being swallowed in a black hole, are flocking to networking sessions, looking for someone who has a friend who knows a manager who might be hiring.
At the Barrington, Ill. Career Center, a single Tuesday morning networking meeting used to draw about 15 people. But on a recent Tuesday, back-to-back sessions drew a combined 104 jobseekers.
Networking has its own frustrations. Ecklund says when he's called people inside his former company on behalf of friends looking for work, he's been told five times that they should just send their rmto the company Web site.
In an environment where employers can afford to be picky and take their time, even an interview doesn't guarantee communication.
Bob Creech, an unemployed credit manager from Arlington Heights, Ill., said after an interview six weeks ago, he immediately sent "thank you" notes off to the people he met with.
"I never heard 'boo' back from them, not even on e-mail," Creech said. "I think the trail's gone cold by now."
Copyright 2018 The Associated Press. All rights reserved. This material may not be published, broadcast, rewritten or redistributed. We strive to uphold our values for every story published.