Just two blocks from where Kansas University tore down a row of badly decaying old houses last week, Serina Hearn and her husband, Tony Backus, are restoring a home they say was recently in even worse condition.
"It actually looks better now, gutted, than it did before," Hearn said of the house at 1121 Ohio. "Have you ever opened a bedroom and had 300 cockroaches rush out to you? Have you ever opened a refrigerator and seen something like the Egyptian plague?
"I felt nauseated in the house."
Restoration hasn't been easy Hearn said an inspector told her the house was standing "by sheer illusion" but Lawrence preservationists and neighborhood advocates say they hope the house will serve as an example to the rest of the city.
"It takes an open mind to see a structure like that and see the possibilities," said Carol Von Tersch, president of the Lawrence Preservation Alliance, "instead of deciding to tear it down and start over."
The house didn't start life in such ignominious condition. Hearn said her research showed it started life in 1895 as the home of Clark G. Howland, the first Unitarian minister in Lawrence. It's a large home, 5,000 square feet, with three stories.
The house changed hands over the years; at one point it was the home of Phi Kappa Sigma fraternity in the late 1950s. By the time the 21st century rolled around, however, it had been carved up into nine apartments, and parts of the building were sagging badly from water and other structural damage. One upstairs door had been shaved down repeatedly over the years to allow it to continue fitting into a sagging doorway.
Plus, Hearn said, the house had severe termite problems. One inspector suggested she purchase the property for the value of the land, plus $1 for the house.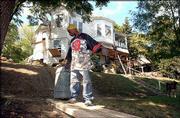 "This house is worse than what they were trying to tear down," Hearn said. "It was really a struggle for me whether to buy."
Instead, Hearn and Backus bought the property for $130,000.
"I guess I just love old houses," she said. "They're like people to me."
The gutting started after Hearn and Backus, an old-home remodeler, bought the house in July. They soon found what they considered good omen: Hidden inside one of the front porch columns was a 1960 edition of the Journal-World featuring a story about Backus' father, Oswald P. Backus III, a KU professor.
"That's very bizarre," Hearn said.
Hearn and Backus hope to finish restoration in May or June. After that, they hope to list the building on the National Register of Historic Places, along with another house they're restoring across the street at 1122 Ohio. Hearn said she hoped to rent rooms in the house under an old-style boarding-home format.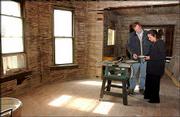 Candice Davis, president of the Oread Neighborhood Assn., said Hearn and Backus' efforts were useful in the neighborhood's struggle against landlord neglect and KU encroachment.
"We're hoping to save the remaining housing stock and hold onto it," Davis said. "An improvement like they're doing is something we want to see more of."
Hearn said she just wanted to see Lawrence's uniqueness intact.
"The thing about Lawrence that keeps me sane is the old houses," she said. "Otherwise, we'll just be a sprawling suburbia."
Copyright 2018 The Lawrence Journal-World. All rights reserved. This material may not be published, broadcast, rewritten or redistributed. We strive to uphold our values for every story published.