STILLWATER, OKLA. — While Nebraska is trying to recall when it last experienced such a bleak season, the surprised Oklahoma State Cowboys are thinking about a bowl game.
Adding to an already disappointing season, the Cornhuskers lost to Oklahoma State for the first time since 1961 as Josh Fields threw two touchdown passes and ran for another in a 24-21 victory on Saturday.
The win was no fluke, either. Nebraska's once-proud defense was no match for Oklahoma State's offense. While Fields passed for 192 yards, Tatum Bell added a career-high 182 yards on the ground for the Cowboys (3-4, 1-2 Big 12).
"The staff challenged them to meet Nebraska's physical style of play, and they did," Oklahoma State coach Les Miles said of his players. "It is a great start for the rest of the season. It puts us in a position for bowl goals."
When the game ended, Oklahoma State fans raced onto the field and tore down both goal posts as the Cowboys ended a 24-game losing and 35-game winless streak against the Huskers. There was tie in 1973.
"I think we had some excellent individual performances, but it's been a tough go in terms of getting everyone on the same page and playing good football as a unit," Nebraska coach Frank Solich said.
Nebraska (5-3, 1-2), which tumbled out of the AP poll for the first time since 1981 several weeks ago, has now lost three of its last five games and has dropped five in a row on the road dating to last season. The other losses came against Top 25 teams Penn State and Iowa State.
With the loss, coach Frank Solich's Huskers face the prospect of their first losing season since 1961, when they went 3-6-1 under Bill Jennings.
Four of the Huskers' final five opponents are Texas A&M;, No. 8 Texas, No. 17 Kansas State and defending Big 12 champion Colorado.
"We have a chance to be a good team, but if we continue to play like this, it's going to be a long year," Nebraska safety Philip Bland said.
No. 23 Colorado 34, Baylor 0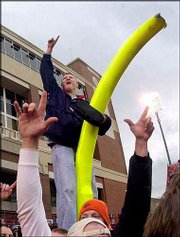 Boulder, Colo. Chris Brown ran for 167 yards and three first-half touchdowns before leaving the game with a sprained ankle, and No. 23 Colorado dominated Baylor 34-0.
Brown, the nation's leading rusher, boosted his per-game average slightly to 164.9 yards as Colorado (5-2, 3-0 Big 12) won its fourth straight.
Baylor (3-4, 1-2) had 251 total yards compared with 395 for the Buffaloes and crossed midfield only three times.
Brown had touchdown runs of 55, 4 and 1 yard. He became the fastest player in Colorado history to reach 1,000 yards in a season, doing it in 143 carries. Rashaan Salaam needed 149 carries to hit 1,000 on his way to 2,055 yards and the Heisman Trophy in 1994.
Texas Tech 52, Missouri 38
Lubbock, Texas Kliff Kingsbury completed 49 of 70 passes for 510 yards and five touchdowns for Texas Tech.
Kingsbury broke his own school records for completions, attempts and yards and also became the 20th passer in Division I-A history to reach 10,000 career yards.
He came in needing 182 yards to become the first Red Raiders quarterback with 10,000, and he had that by the first quarter.
Texas Tech's defense kept Missouri (3-4, 0-3 Big 12) in check most of the first half, and the Red Raiders (5-3, 2-1) moved at will. They ended with up 606 yards of offense.
Copyright 2018 The Associated Press. All rights reserved. This material may not be published, broadcast, rewritten or redistributed. We strive to uphold our values for every story published.