Mike and Jan Swalm know all too well the dangers of driving on county roads.
In April 2001, their son, Peter, was killed in a head-on collision on County Road 458, a road he drove nearly every day on his way to Lawrence High School. He was 18 and just weeks from graduation.
Though road conditions had little to do with their son's death it was more of a freak accident the Swalms say the heavily traveled road would be safer if it were wider and if the county funded the Sheriff's Office well enough to put more deputies on patrol.
"One of his friend's parents said when he was in sixth grade, 'Some kid out here's going to die on this road,'" Jan Swalm said. "By the time my grandson gets to driving, I sure hope we have a better setup than what we have now."
County commissioners have similar hopes for rural roads, though they're not yet sure exactly what to do to reduce the number of drivers who crash, get hurt or kill one another in traffic accidents.
Among the ideas on the table: Pump more money into road construction and reconstruction, focus projects on the most accident-prone roadways or work harder to educate drivers about the need to be safe.
All will get a hearing this fall, as commissioners consider requests for millions of dollars in capital-improvement projects that could be included in a long-range county spending plan.
"I follow the Harry Truman philosophy on roads: Just pave 'em and go," said Jere McElhaney, commission chairman. "I have no hesitation to spend money on roads.
"Times have changed. Vehicles have changed. Peoples' driving habits have changed. We need to keep our road system up to date and safe."
Commissioners will get a head start on their deliberations Wednesday night, when they meet to discuss accident patterns on rural roads during the past three years.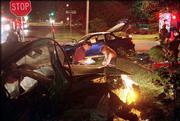 Douglas County Sheriff's officers worked 1,115 accidents on rural roads from 1999 to 2001, according to a report prepared for the county's Traffic Safety Advisory Committee. Commissioners will discuss the report during their meeting at 6:35 p.m. Wednesday at the county courthouse, 1100 Mass.
Last year accidents went up nearly 2.2 percent, to 378, from 2000, when there were 370 crashes, according to the report. In 1999 there were 367.
Deer hazards
But not all of the accidents can be solved by making physical changes to the roads, officials said. Thirty-five percent of the accidents during the past three years involved a collision with an animal; of those, nine in 10 involved a deer.
Adding paved shoulders or widening lanes along rural roads won't do much to prevent a deer from crossing a driver's path, Commissioner Charles Jones said.
Instead, he said, teaching people how to avoid such accidents might just offer the best bang for the buck.
"I don't think we can do enough in terms of increasing driver awareness and education," Jones said. "Public education is probably our best strategy."
Commissioner Bob Johnson, retired chairman and CEO of Charlton-Manley Insurance in Lawrence, said the decisions about which roads would be upgraded and how would depend on balancing the county's finances with a project's expected benefits.
Take adding shoulders to county roads. The county has miles of roads that lack adequate shoulders, which can help vehicles avoid accidents by pulling out of the traffic lane while staying out of a roadside ditch.
But according to the county report, more vehicles crashed into a ditch, embankment or culvert (211) during the past three years than struck another vehicle (192).
Shouldering costs
And adding shoulders to all county roads would be "a horrendously expensive thing," Johnson said, who noted that estimates for including shoulders on a mile of a relocated 31st Street in connection with the proposed South Lawrence Trafficway would cost about $300,000.
"It would be at least that expensive out in the county," Johnson said. "The answer is that you have to do the best you can with the money you have. We simply do not have the money to bring all the county roads up to the standards we would like."
The county already is upgrading several roads to improve driver safety, with help from federal safety grants. A 2.3-mile section of County Road 442 (Stull Road) is being overhauled west of County Road 1029, and construction is expected to begin next year on upgrading 1029 between the Farmers Turnpike and Lecompton.
Of the 1,115 accidents that occurred during the past three years on rural roads in Douglas County, 714 came on designated County Roads. Here are the five roads that had the highest number of accidents worked by Douglas County Sheriff's officers during 1999-2001, according to a report compiled for the county's Traffic Safety Advisory Committee:1. (tie) County Road 458 and County Road 1055, 124 each.3. County Road 442, 97.4. County Road 1061, 80.5. County Road 1029, 73.
Both roads rank among the county's top five in terms of number of accidents, and the Farmers Turnpike next on the upgrade list ranks sixth.
Having such accident data in hand helps commissioners set priorities, Johnson said.
"It's really horrible to say, but we really can't justify spending the money on these projects until after we have the accidents," he said.
Copyright 2018 The Lawrence Journal-World. All rights reserved. This material may not be published, broadcast, rewritten or redistributed. We strive to uphold our values for every story published.