American Fork, Utah — A lone weeping willow marks the spot where Mary Kawakami made her stand.
After six decades of giving ground to bigotry, dishonesty and now development the feisty 89-year-old Japanese American refused to give anymore, not even when a bulldozer stood poised to level the willow and other trees on 7 acres she and husband Charlie say they have owned since 1940.
Instead of backing away, she stepped between the willow and bulldozer and ordered the driver to stop knocking down her beloved trees.
"It was like a terrorist attack," Mary Kawakami says of the August standoff. "They were inside our property pushing down our fence and our trees. I thought, 'This is America. They can't do that.'"
But what could she do? Charlie, 98, was too frail to help. American Fork leaders told her they had to stay neutral. Others warned her the developer would "squash her like a bug" in order to get an access road to the Target and shopping mall being built nearby.
But Kawakami all 5 feet, 1 inch of her rooted herself in front of the tree anyway.
"I told the driver, 'Look, you can't bulldoze any farther into my property. I am standing right here, and if I have to lay down, I will. You'll have to run over and kill me.'"
Police arrived, and in the end, the bulldozer crew blinked.
Since the stare-down, work on the road has stalled, and the battle lines have shifted to Provo's 4th District Court, where Kawakami's Salt Lake City attorney, Thomas Duffin, filed suit against Miller Weingarten Realty and Okland Construction Co.
Kawakami insists the fence bulldozers leveled was in place when they bought the land and has been understood by everyone to mark the edge of the property. Moreover, the family has paid taxes on the land for years. By right, Duffin argues in the suit, the property belongs to the family because everyone acquiesced for years to that being the property line.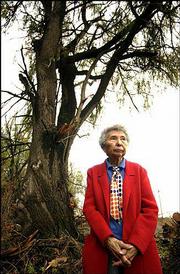 But Miller Weingarten insists county records show it has clear title to the half-acre it purchased in August.
Kawakami would rather settle than sue. But either way, she says, she will stand up for principle and property rights.
When Kawakami was growing up in the Salt Lake Valley, her family's landlord set fire to their rental home to claim the insurance money. Years later, after the Japanese attack on Pearl Harbor, she was uprooted again this time with Charlie. Leaders of Spring Canyon, a Utah mining camp near Helper, gave Japanese-Americans 48 hours to leave. That meant the Kawakamis had to flee their home and a hilltop beauty salon, which Charlie's stepfather had crafted out of stone.
Fortunately, they had a place to go. A doctor had advised the couple several years earlier to relocate because Charlie a miner had black lung. In August 1940, they cashed in their Liberty Bonds purchased to support the coming U.S. war effort to buy the property where they now live.
Pluck and hard work enabled family members to carve a new niche for themselves. Mary Kawakami soon opened a new salon in a converted chicken coop. She remembers customers propping their legs on chairs to avoid the mice darting about the floor.
When Charlie developed an arthritic back working at a turkey-processing plant, Mary became the primary wage earner. Weekdays, she cut hair. Weekends, she caught a bus to Los Angeles to study from professionals and improve her skills.
She also entered and won numerous hairstyling contests ignoring bigoted murmurs in some corners about letting Japanese compete. In 1954, she was honored in Hollywood as "One of the World's Ten Best." She parlayed that and other awards into teaching at international conventions and opening the Mary Kawakami College of Beauty in Provo, which she operated until her retirement four years ago.
Kawakami has slowed lately.
"I'm still standing," she says.
Copyright 2018 The Lawrence Journal-World. All rights reserved. This material may not be published, broadcast, rewritten or redistributed. We strive to uphold our values for every story published.