Philadelphia — Poultry processor Pilgrim's Pride is recalling 27.4 million pounds of cooked sandwich meat after warnings of possible contamination from listeria the largest meat recall in U.S. history.
The company pulled 295,000 pounds of turkey and chicken products Wednesday but expanded the recall over the weekend after tests came back positive for a strain of the potentially fatal bacteria, the company said Sunday.
The nationwide recall covers meat processed at the company's plant in Franconia, Pa., from May 1 through Oct. 11.
The recall covers deli meat primarily sold under the company's Wampler Foods brand, though it also is sold under brands including Block & Barrel, Bonos, Golden Acre, Reliance and a variety of private labels. The products include turkey and poultry sold freshly sliced or made into sandwiches at deli counters and in individually sold packages of sliced deli meats.
Because consumers might not have access to the meat's original packaging, the best way to know if a product falls under the recall is to ask if it comes from a package that bears the plant number P-1351 inside the U.S. Department of Agriculture mark of inspection, said company spokesman Ray Atkinson. Production dates also can be found on that part of the label.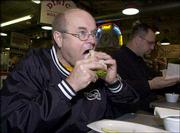 The deli products were sold in retail groceries, in delicatessens and by food service distributors.
Pilgrim's Pride, based in Pittsburg, Tex., is the nation's second-largest poultry company behind Tyson Foods.
Consumers were urged by the company to return any affected meat to the store or deli where it was purchased for a full refund.
Company officials said the recall didn't include fresh turkeys, and that it should have no effect on the holiday season.
Consumers with questions can call the company toll free at (877) 260-7110 or the USDA Meat and Poultry hot line at (800) 535-4555.
Listeria can cause high fever, severe headache, neck stiffness and nausea, according to the USDA. It can be fatal in young children, the elderly and people with weak immune systems and can cause miscarriages and stillbirths.
Copyright 2018 The Associated Press. All rights reserved. This material may not be published, broadcast, rewritten or redistributed. We strive to uphold our values for every story published.