Seattle — Terrell Owens had it all over Shawn Springs on Monday night.
Twice.
Not only did the All-Pro receiver catch a 37-yard touchdown pass over the Seattle cornerback to give San Francisco a 28-21 win over the Seahawks, but he added an extra flourish by pulling out a pen and autographing the ball for a friend sitting in Springs' suite.
Seattle (1-4) led 21-20 and was driving for another score when Ahmad Plummer intercepted an ill-advised pass by Trent Dilfer at the San Francisco 32 with 10 minutes left in the game. The 49ers moved from there to the Seattle 37. Garcia found Owens deep down the left side and he took the ball over Springs for the score.
He then took a pen from his sock and signed the ball.
"That's what big players do," Seattle coach Mike Holmgren said, referring to the catch, not the autograph.
"I just tried to be creative," Owens said. "I was just trying to have fun. It was a situation where I knew we would be going to the end zone in the fourth quarter. Everybody's always saying I'm being disrespectful. But I'm just trying to have fun."
Garcia then hit Garrison Hearst for a 2-point conversion.
The win kept the 49ers (4-1) one game ahead of Arizona in the NFC West, which Seattle joined this season, moving from the AFC West in realignment. The 49ers won the division 14 times between 1981 and 1997, the last year they won it.
With St. Louis' demise this season, they are a heavy favorite to win it again this season.
Garcia threw for 202 yards and the two TDs and ran seven times for 48 yards, including 17- and 12-yard scrambles on a second-quarter drive that led to a field goal.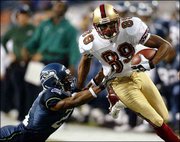 San Francisco took a 10-0 lead on Jose Cortez's 37-yard field goal and Garcia's 8-yard TD pass to Owens, who finished with six catches for 84 yards.
The field goal came on a 73-yard drive off the opening kickoff.
Then Zack Bronson, who later left the game with a broken foot, intercepted a pass by Dilfer on Seattle's first possession.
The 49ers took six plays to complete the drive when Garcia rolled right and found Owens all alone on the goal line and he stepped into the end zone no autograph on that one.
Seattle retaliated immediately, going 69 yards in 10 plays to score on Dilfer's 5-yard touchdown pass to Mack Strong with 1:45 left in the first quarter. Dilfer had two critical third-and-long completions to Bobby Engram to keep the drive alive.
Then Engram struck again. He took Jason Baker's punt at his 39, broke a tackle by long snapper Brian Jennings and was free, weaving his way 61 yards to give Seattle a 14-10 lead with 5:41 left until halftime.
Cortez's 29-yard field goal on the next drive made it 14-13 and that's the way the half ended.
The 49ers' first possession of the second half was their best a 12-play, 99-yard drive primarily on the ground capped by Kevan Barlow's 6-yard run off left tackle for a 20-14 lead.
Back came Seattle. Shaun Alexander went 42 yards on the first play from scrimmage, then capped the 76-yard drive with a 1-yard run with 1:11 left in the third quarter to make it 21-20.
Copyright 2018 The Associated Press. All rights reserved. This material may not be published, broadcast, rewritten or redistributed. We strive to uphold our values for every story published.