Lew Phillips and his wife, Carolyn, never considered retiring anywhere other than a university community when they left successful careers in Atlanta nearly six years ago.
"There are just so many things going on," Lew Phillips said of the factors that drew them back to Lawrence. "There's just such an opportunity to meet people who have had interesting lives. And the idea of having sports teams and athletic events to go to is very appealing."
Such thinking increasingly is making Lawrence and some other university communities popular destinations for not just the young but also the young at heart. And Lawrence is featured in the November issue of Kiplinger's Personal Finance magazine, on newsstands this week. The article highlights Lawrence as one of three "great places" for 21st century retirees seeking the perfect locale.
The seven-page article, which will reach an estimated 1 million readers, is just the latest to praise Lawrence as a retirement hot spot. Within the past two years, the community's appeal to retirees has been touted in a special Reader's Digest publication, AAA's national Home & Away magazine and Joseph Lubow's book, "Choose a College Town for Retirement."
'Oasis on the prairie'
"I wasn't surprised at all that we were featured in the magazine," said Donna Bell, executive director of Brandon Woods Retirement Community. "We've been on the national radar screen for a while now."
Mary Beth Franklin, associate editor with Kiplinger's, said the magazine's staff decided to feature Lawrence after talking with Lubow and reading his book on college towns.
"Every time we talked to him, he kept coming back to Lawrence, Kansas, as being an oasis on the prairie, and how it was such a wonderful arts community," Franklin said. "We also were looking for towns generally with a population of 100,000 or less. One of the trends emerging, especially since Sept. 11, is that people are looking for the smaller towns but still like to have easy access to a big city."
The other two communities featured are Bellingham, Wash., home of Western Washington University, and Charlottesville, Va., home of the University of Virginia.
The article highlights Kansas University's Spencer Museum of Art, the Lied Center and Jayhawk athletic events. Other amenities mentioned are Massachusetts Street, "old-fashioned" Weaver's Department Store, the historic Old West Lawrence neighborhood and the city's 32 parks.
Four seasons
The magazine also made sure to point out the region's weather. In particular, it talks about how Lawrence experiences all four seasons.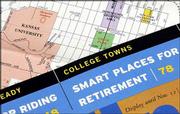 "Retirement is different than it used to be," Franklin said. "People don't want to just go play golf in the sun. For many people, weather is not the most important thing anymore. They want a place that is stimulating to live."
Bell agreed. That's why her west Lawrence retirement community has been busy building new townhomes to keep up with increasing demand. Fifteen years ago when the retirement complex opened, it had 10 townhomes. Today it has 59, with 11 more in the works. Construction is not complete on the units, but Bell said nine already had been sold.
Census data show the number of people age 60 or older is growing in Lawrence, increasing by about 1,200 residents, or 19.8 percent, during the 1990s. That's slightly less than the city's overall growth rate of 22 percent during the decade.
Bell said many of the 60-or-older residents are Kansas University alumni, but she is seeing more who have never been affiliated with the university.
"What I hear a lot from people is how they came to Lawrence for this or that and then just fell in love with the downtown and its unique character," Bell said. "They want to be someplace that is not just like every other city."
Economic boost
A menu of cultural and recreational activities helps, the magazine said, as do access to free or low-cost entertainment, a picturesque campus, and restaurants and coffeehouses that cater to students and seniors alike.
Phillips, who was quoted in the Kiplinger's article and featured with his wife in a full-page photo, said the influx of retirees also was good for the community. For example, he said, most retirees don't have children who add to the cost of public education.
"Our expenditures far outweigh any costs we bring to the community," Phillips said. "The retirees are good for the city's economy."
Susan Henderson, marketing manager for the Lawrence Convention and Visitors Bureau, said the national publicity Kiplinger's produced for the city could only be beneficial. She said the magazine charges $67,000 for a full-page color ad, and she noted the portion of the article depicting Lawrence consumed more than two pages for free.
"I don't know what the total value is to us, but what I can tell you is that we couldn't buy it," Henderson said.
The magazine will remain on newsstands until Nov. 12.
Copyright 2018 The Lawrence Journal-World. All rights reserved. This material may not be published, broadcast, rewritten or redistributed. We strive to uphold our values for every story published.