San Francisco — The center of a skirmish in Game 1 of the NL championship series, Kenny Lofton found himself in the middle of a hugfest after Game 5.
Lofton singled home the winning run Monday night, giving the San Francisco Giants a 2-1 victory against St. Louis and sending them to their first World Series in 13 years.
The Giants did it in most dramatic fashion with a two-out rally in the bottom of the ninth inning.
With runners on first and second after consecutive singles off starter Matt Morris, the Cardinals brought in left-hander Steve Kline to face Lofton.
He lined the first pitch he saw into right field, and David Bell took off from second and came diving across home plate.
"I knew all along we could do this," Lofton said. "I waited the whole month of September for a chance. I kid you not, (reliever) Tim Worrell told me I was going to do it."
Now, the wild-card Giants will have a couple of days at home in their own beds before the start of the World Series on Saturday in Anaheim against the AL wild-card Angels.
"I knew Kenny would do something," Giants second baseman Jeff Kent said. "I didn't know what, but I knew he'd come through."
Last Wednesday, the 35-year-old Lofton was in the middle of a skirmish at the start of the series.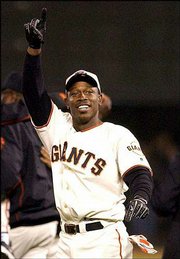 Lofton took a long look at his home run early in the game at Busch Stadium, and the Cardinals threw high and tight to him in the top of the fifth inning. Both benches emptied after the Giants' leadoff hitter took exception to the pitch.
After last week's scuffle, Lofton went into a huge slump. He didn't get another hit until Monday night, when he singled off Morris in the sixth. Lofton was just 2-for-17 in the series entering Game 5.
Lofton also scored the tying run in the eighth Monday night on Bonds' sacrifice fly.
This time, there was no postgame criticism, just slaps on the helmet and hugs for the 12-year veteran, who was acquired in a trade with the Chicago White Sox on July 28.
His hit followed singles by Bell and Shawon Dunston.
"Shawon came up with a big hit and then boom," Lofton said. "I never, never, never, never felt this good. I just did my job and now we're going to the Series."
Copyright 2018 The Associated Press. All rights reserved. This material may not be published, broadcast, rewritten or redistributed. We strive to uphold our values for every story published.