San Francisco — The St. Louis Cardinals struggled to get clutch hits, and it cost them a chance to reach the World Series.
Like they have throughout the NL championship series, the Cardinals squandered plenty of scoring opportunities and were eliminated with a 2-1 loss to the San Francisco Giants in Game 5 on Monday night.
"I feel sick," catcher Mike Matheny said. "We fell short and I hope everybody feels the same way. Getting past the first round, that's good, but that wasn't our goal."
The Cardinals were 0-for-8 with runners in scoring position against Kirk Rueter and Felix Rodriguez, making them a feeble 3-for-39 in the NLCS after they batted .278 in the regular season.
They left five on in the first three innings, and 10 overall for a two-game total of 22 numbers that will haunt them in the offseason.
The lone success was Fernando Vina's sacrifice fly in the seventh inning off Rodriguez that snapped a scoreless tie.
"However you look at it, the postseason was a failure," manager Tony La Russa said. "We failed."
"It was total team," he said. "We got bad location (on pitches) at times, we didn't hit, our defense wasn't as good as usual. When it's down to the final four, you've got to raise your level of play."
Even Matt Morris' determined pitching wasn't enough as the Cardinals made their second five-game exit in the NLCS in three years. They haven't been to the World Series since 1987 and haven't won it all since 1982.
It was a quiet end to a turbulent season for the Cardinals, who recovered from the death of pitcher Darryl Kile and numerous pitching injuries to win the NL Central and make their third straight playoff appearance.
"It was storybook," reliever Steve Kline said. "It just didn't have the right ending."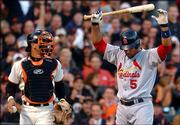 The Cardinals were forced to use 14 starting pitchers in the regular season, but benefited from an unlikely midseason comeback by Andy Benes and the emergence of 28-year-old rookie Jason Simontacchi.
They were hamstrung in the playoffs by Scott Rolen's sprained left shoulder, which kept him unavailable throughout the NLCS. The team optimistically included him on the roster for the second round, but he never made significant progress.
"That's just an excuse," La Russa said. "When they outplayed you in every category, how much is Scott going to change that?"
Morris lasted 823 innings, his longest outing since he beat the Cubs with a four-hit shutout May 13. La Russa allowed Morris to bat in the top of the ninth, but finally removed him after two-out hits by David Bell and Shawon Dunston in the ninth.
"I think he was giving me the opportunity to win or lose it," Morris said. "I ended up losing it."
Lofton, who is 11-for-20 against Morris in his career counting the playoffs, followed with a single off Steve Kline. Last year, Kline gave up the winning hit to Arizona's Tony Womack when the Cardinals were eliminated from the division series.
"He threw a slider up, that's not what he was trying to do," La Russa said. "At key times, when they had to make pitches, they did. We didn't. When we had to have better at-bats, they did, we didn't."
Morris rebounded from the Game 1 start at Busch Stadium that got the Cardinals off on the wrong foot. He faced 16 hitters and allowed five runs in the first two innings of the Giants' 9-6 victory, but in Game 5 he didn't allow a baserunner until he hit Lofton with a pitch to start the fourth or a hit until Bell doubled with two outs in the fifth.
"I was just locked in," Morris said. "I want the ball, I want to go nine. But I came up short."
La Russa benched Tino Martinez, a star in past Octobers with the Yankees but 2-for-25 this postseason with one RBI, in favor of Eduardo Perez. Perez stranded runners in scoring position his first two at-bats.
La Russa also reinserted Miguel Cairo, a surprise star earlier in the playoffs with seven straight hits who had not played in Games 3 and 4. Cairo responded with two hits and was 9-for-17 in the postseason.
Copyright 2018 The Associated Press. All rights reserved. This material may not be published, broadcast, rewritten or redistributed. We strive to uphold our values for every story published.