Steven Watts just wants to park in his own driveway. But sometimes his street in the 1600 block of Edgehill Drive is parked so full of cars he can't find a space for his own.
Those cars, he says, mostly belong to students and faculty at nearby Kansas University.
"There are a lot of out-state-tags and a lot of out-of-county tags," Watts said. "Frankly, I didn't really care during the workday because I'm gone.
"But when I come home after 5 o'clock and there's still cars in the way, it's still annoying. And amusing, to find out how uncivilized some of these students are."
So Watts asked the city to declare a no-parking zone in front of his house. This Tuesday, the Lawrence City Commission is expected to oblige.
His request part of an increasing push for regulation on parking in neighborhoods is a signal of how changing times are changing life in the city.
The commission also is expected to approve a request from the Oread Neighborhood Assn. to tighten parking requirements for new "group living facilities" fraternities, sororities and scholarship halls so there will be two parking spaces for every three students who live there.
Residents of Oread, north and east of KU campus, say they're tired of competing with KU students and faculty for parking spots.
Changing times
"People who are residents don't have a place to park," said neighborhood resident Marci Francisco, a former Lawrence mayor. "My friend who lives in a house on Ohio Street may have to park a block away."
The problem is that KU and the surrounding neighborhoods were mostly built during a time when students weren't quite so mobile as they are now.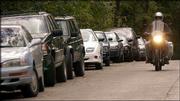 "In the '60s and '70s, not everyone had a vehicle to drive to college," said Mark Wilson, a city planner. "Now it seems as if everyone has an SUV."
Donna Hultine, interim director of parking at KU, agreed especially where scholarship halls are concerned.
"Some of those scholarship halls were built on the assumption that students wouldn't be able to afford a car," she said. "Now we carve out any little niche for parking that we can."
On the surface, it wouldn't seem as though KU could generate enough cars to overflow into nearby neighborhoods. There are 13,698 parking spaces on campus; the university has issued 8,577 parking permits to "commuter" students, faculty and staff.
The problems get clearer at the edge of campus. Hultine said the university had issued 449 parking permits for residents of GSP-Corbin Residence Hall, on 10th Street between Indiana and Ohio streets, while there are just 313 spaces available.
Campus woes, too
"Their overflow is supposed to be in the stadium parking lot, but if you go into the neighborhood, I'd imagine you see quite a few GSP stickers," Hultine said.
Related stories:
Parking spaces limited on campus (05-30-2002)
Lawrence parking ordinance
KU parking links:¢
Lawrence campus map¢
Parking 101¢
Parking rules¢
Visitor parking
"Parking permits on campus is not a permit for a space," Francisco said. "It's a permit to hunt."
Hultine said some students may be avoiding paying for campus parking permits start at $85 a year for students and increase in cost based on the vehicle and the location to park.
"Parking in the (new KU parking) garage costs," said Assistant City Manager Dave Corliss. "Parking on a public street is free. Do the math."
City Manager Mike Wildgen said parking problems near KU were nothing new. Years ago, he said, the city restricted parking in neighborhoods south of campus so nobody could park on the street during daylight hours.
Francisco says that's not possible in Oread. The area is so hilly that many of the homes were built without driveways. That means residents need to park on the streets as much as anybody else.
Neighborhood permits?
One solution that's been floated from time to time: parking permits for the neighborhood. It's an idea that's long been used in other college cities, Manhattan among them, but it receives skepticism here.
"The logistics of it who enforces it, who issues permits has never been worked into a system everybody agrees to," Wildgen said.
Francisco hasn't abandoned the idea, but she sees problems, too.
"The problem with parking permits is it's an imposition on the residents as well as itinerant parkers," she said.
Which leaves neighborhood residents with few tools to combat the problem, except to hope the new rules will prevent additional woes.
It's unlikely, after all, that every KU neighbor will get their own no-parking zone. And even that won't solve every problem.
"My personal issue certainly isn't resolved," Watts said. "If I want to have social gatherings over here, you can't park over here."
Copyright 2018 The Lawrence Journal-World. All rights reserved. This material may not be published, broadcast, rewritten or redistributed. We strive to uphold our values for every story published.