Miami — Wide left. Can you believe it?
Top-ranked Miami was helped by yet another last-second missed field goal by No. 9 Florida State, hanging on for a 28-27 victory Saturday over the Seminoles to extend the nation's longest winning streak to 28 games.
For the fourth time since 1991 in this glorious rivalry, the Seminoles failed to connect on a field goal that would have tied or won the game. But unlike the first three that sailed wide right, Xavier Beitia's 43-yard attempt went in the other direction.
"I simply can't believe we lost the game like that again," Florida State coach Bobby Bowden said. "I thought we had it. I went out to shake his hand. I thought he hit it. I've had that picture so many times before in my career. I can't stand it. Our kids did not deserve to lose this game."
When the officials signaled that the kick was no good, the Hurricanes rushed the field and celebrated as a record Orange Bowl crowd of 81,927 stood and cheered. The Seminoles hung their heads and trudged off.
"I'm an old man, and it's the best football game I've ever seen," Miami coach Larry Coker said.
Until the final minutes, Florida State (5-2) had outplayed the defending national champions, but the Seminoles now find themselves out of the national title chase. Even though Miami (6-0) was pounded by the running of Greg Jones who had 189 yards and a touchdown and was penalized 14 times for 109 yards, the Hurricanes showed why they are champs in every way.
Ken Dorsey bounced back from what would have been the worst game of his career by leading the Hurricanes to a pair of fourth-quarter touchdowns as they rallied from a 27-14 deficit.
No. 5 Ohio State 50, San Jose State 7
Columbus, Ohio Freshman Maurice Clarett scored three touchdowns and Craig Krenzel threw three TD passes as the Buckeyes used a balanced attack to beat mistake-prone San Jose State. Both Clarett and Krenzel went to the sidelines midway through the third quarter after the Buckeyes (7-0) scored 31 unanswered points to build a 41-7 lead.
No. 6 Georgia 18,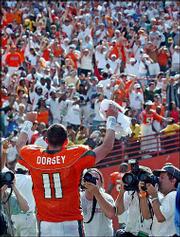 No. 10 Tennessee 13
Athens, Ga. Georgia took advantage of Casey Clausen's absence and took a major step toward their first conference title since 1982. The Bulldogs (6-0, 3-0 SEC) withstood a late rally to remain the only unbeaten team in the conference. They'll be solid favorites the next two weeks at home against Vanderbilt and Kentucky, meaning they could be undefeated going into the annual showdown against Florida on Nov. 2. Tennessee (4-2, 1-2) didn't have Clausen, who hurt his non-throwing shoulder in a six-overtime win over Arkansas, so they went most of the game with third-stringer James Banks.
No. 7 Oregon 31, UCLA 30
Pasadena, Calif. Jason Fife threw two touchdowns, including the winning 74-yarder to Keenan Howry on the first play of the fourth quarter, as the Ducks rallied to beat UCLA again. Trailing 31-30, UCLA's Chris Griffith attempted a 46-yard field goal that sailed wide left with 1:54 remaining. The Ducks (6-0, 2-0 Pac-10) have beaten UCLA (4-2, 1-1 Pac-10) the last three times, and four of the last five games have been decided by five points or fewer. UCLA quarterback Cory Paus was 17-of-31 for 316 yards and three touchdowns.
No. 8 Notre Dame 14, Pittsburgh 6
South Bend, Ind. Carlyle Holiday threw an 11-yard touchdown pass to Arnaz Battle in the second quarter, helping Notre Dame (6-0) make the most of its only extended drive. The Panthers (5-2) played exceedingly well, gaining 402 yards, compared with a season-low 185 yards for the Irish. Notre Dame's only drive longer than 36 yards was the 80-yarder directed by Holiday.
No. 12 Wash. State 36, Stanford 11
Stanford, Calif. Jason Gesser passed for 297 yards and threw two of his three touchdown passes to Jonathan Smith to lead the Cougars. Jerome Riley had nine receptions for 173 yards and a score as Washington State (6-1, 3-0 Pac-10) rolled to its fourth straight victory. Kenneth Tolon rushed for 89 yards and a late TD as Stanford (1-4, 0-2) lost its third straight.
No. 13 Michigan 27,
No. 15 Penn St. 24, OT
Ann Arbor, Mich. Chris Perry's 3-yard touchdown run in overtime gave Michigan its sixth straight win over the Nittany Lions. Michigan (5-1, 2-0 Big Ten) won the toss before the first overtime ever at Michigan Stadium, and the Wolverines chose to let Penn State (4-2, 1-2) have the ball first. Nittany Lions kicker Robbie Gould who missed an extra point and a field goal in regulation missed a 23-yard field goal in overtime. But Michigan was called for offsides, and Gould made a 20-yarder for a 24-21 lead.
No. 14 N.C. State 34, North Carolina 17
Chapel Hill, N.C. Freshman T.A. McLendon, playing with a cast on his broken right wrist, ran for a season-high 164 yards and two touchdowns as N.C. State remained unbeaten. The win gave the Wolfpack (7-0, 2-0 ACC) their its second-best start in 111 years of football. North Carolina (2-4, 0-2) lost for just the second time to its rival in the last decade.
No. 18 LSU 36,
No. 16 Florida 7
Gainesville, Fla. One week after losing at Mississippi, Florida's season got even worse as LSU quarterback Matt Mauck picked apart the Gators' woeful defense. The Tigers (5-1, 2-0 SEC) had four interceptions against Rex Grossman, and LSU also scored on a fake field goal and two passes from Mauck to Devery Henderson.
No. 17 Iowa 44, Michigan State 16
Iowa City, Iowa Brad Banks threw two touchdown passes, Jermelle Lewis returned a kickoff 94 yards for another score, and Iowa (6-1, 3-0 Big Ten) also intercepted three passes.
No. 20 USC 30, California 28
Los Angeles Sultan McCullough carried 39 times for 176 yards and the go-ahead touchdown in the third quarter for Southern California. Carson Palmer threw for 289 yards and two touchdowns for the Trojans (4-2, 2-1 Pac-10), who trailed 21-3 early.
No. 21 Air Force 52, BYU 9
Air Force Academy, Colo. Chance Harridge ran for four touchdowns for the second straight game, and No. 21 Air Force forced five turnovers. Air Force (6-0, 3-0), the nation's top rushing team, had 463 yards 386 rushing.
No. 22 Washington 32, Arizona 28
Seattle Reggie Williams scored three touchdowns, including the game-winner on an 80-yard pass from Cody Pickett with 2:03 remaining. Williams catching eight passes for 184 yards. The Huskies (4-2, 1-1 Pac-10) also got a strong performance from Pickett, who completed 25 of 35 passes for 345 yards without an interception.
Indiana 32,
No. 23 Wisconsin 29
Bloomington, Ind. Gibran Hamdan threw three of his four touchdown passes in the final 16 minutes to rally Indiana from a 19-point deficit. Anthony Davis had 18 carries for 108 yards and a touchdown for the Badgers.
Arkansas 38,
No. 24 Auburn 17
Auburn, Ala. Fred Talley tore up Auburn's defense, running for 241 yards, including an 80-yard touchdown. The Razorbacks (3-2, 1-2 SEC) racked up 426 yards rushing, and Talley's total was the most ever against Auburn.
No. 25 Mississippi 52, Arkansas State 17
Oxford, Miss. Eli Manning threw for 290 yards and three touchdowns to lead Ole Miss, which was playing as a ranked team for the first time in two years. Coming off a shocker of Florida, the Rebels (5-1) had a predictably easy time against Arkansas State (4-4), which fell to 1-18-2 against Ole Miss.
Copyright 2018 The Associated Press. All rights reserved. This material may not be published, broadcast, rewritten or redistributed. We strive to uphold our values for every story published.