Kansas volleyball coach Ray Bechard moved his way through a crowd of Jayhawk well-wishers Saturday evening at Horejsi Center.
He slapped hands with some of the children present and offered a laugh or a thank you to the older supporters remaining inside the gym after KU's three-game victory over Baylor. But as the fifth-year coach inched closer to the exit, he realized a group of young men wasn't going to let him leave so easily.
"Ray, Ray, Ray!" chanted eight guys decked out in white T-shirts that read, "Ray's Boys," an obvious knockoff of the "Roy's Boys" cheering section that honors KU basketball coach Roy Williams.
Bechard might not have Williams' following yet, but he's gaining, and Saturday's outcome didn't hurt. The Jayhawks improved to 8-0 at home and 5-2 in the Big 12, the school's best conference start.
"Obviously we got the idea as a spinoff of 'Roy's Boys,'" said group member Brandon Tobias, who represented the "A" in the group's spelling the only letter that differentiates between Williams' and Bechard's first names. "I've always been a big volleyball fan, but we really wanted to kind of pay a tribute to Bechard and the success that he's built for this program."
Bechard, who admitted he was flattered by the fans' gesture, tried to reward namesake fans, but instead short-armed his toss of a miniature volleyball, which he throws to fans before each game.
"I tried to toss those 'Ray's Boys' a bone, but my wing wasn't warmed up yet," Bechard joked.
That wasn't the only short-coming Kansas had on Saturday, but it might have been its most significant.
The Jayhawks weren't perfect in their 30-26, 30-26, 30-28 victory against Baylor, but they seemed to be at the right times.
"When we needed the effort the most, it was there," said Bechard, whose team improved to 14-2 on the season and has won three of the last four meetings against the Bears in Lawrence. "It seemed like us and Baylor both slept through the match until it was 20-20, and then over the last 10 points we really got after it."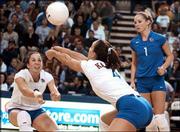 Baylor (8-9) jumped out to a 3-0 lead in the first game and held a lead until an illegal hit put the Jayhawks in front 13-12.
Baylor went point for point with the Jayhawks and regained the lead, but freshman setter Andi Rozum and middle blocker Ashley Michaels combined to stop Baylor's Stella Odion on a spike attempt that gave KU a 25-24 advantage. The Jayhawks outscored the Bears 5-2 to take the first game.
Game Two was nearly a carbon copy of the first, until junior Abbie Jacobson hit a rocket spike down the line that gave Kansas a 22-20 advantage. KU turned that into another four-point victory.
Unlike last year's five-game loss in Waco, Texas, Kansas wrapped things up with another tight victory Saturday.
Four Jayhawks recorded at least 10 kills, with Sarah Rome leading the way with 13.
Tobias said Ray's Boys weren't a one-time trick, and they most likely would be back for the last match in a three-match homestand against Kansas State on Wednesday.
Jacobson said she hoped Bechard's new buddies would give her coach too big of a head.
"No," she said smiling, "he absolutely deserves it. Roy is Roy, but Bechard has earned this kind of recognition."
Copyright 2018 The Lawrence Journal-World. All rights reserved. This material may not be published, broadcast, rewritten or redistributed. We strive to uphold our values for every story published.