"I think anybody could do it for about $1,000," says Donna Kent.
Well, maybe. If you were willing (with your own hands) to position and cement about 6 tons of rock, to design and build a five-tier fountain, to haul and dump truckloads of dirt and to plant several hundred tropical bushes and trees.
But first, you would have to turn off your swimming pool pump.
Donna and John Kent live in Dunedin, Fla., in a small subdivision lined with comfortable but undistinguished tract houses. Nothing prepares a visitor for the surprise of the Kents' pond behind their backyard fence, a dark expanse of water brimming with fish and surrounded by a forest primeval of palms and ferns.
Once, it was a conventional screened-in pool with a concrete patio.
"We never used the swimming pool," Donna Kent says. "So we decided to turn it into a fish pond."
She says that within two weeks of turning off the equipment, the chlorine had evaporated and algae had grown, turning the sides dark.
The Kents she is 65, he is 72 went to work.
Donna and John Kent created a pond filled with koi, goldfish and golden orfe.
She built the stone walls for the terraced beds on top of the concrete deck. He drilled holes through the deck so water could drain out. Together, they wrestled the stones and cement into a corner for the waterfall.
They stocked the pond with several dozen goldfish, koi and golden orfe that now number more than 100.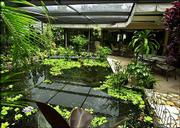 "I get in the pond all the time," Donna Kent says. "The fish love it. They come up and nibble on me."
She swishes her hand through the water, and it comes alive with fat fish.
"You could have bass in here," she says. "But I think they'd be more work."
She says the changeover "has been so gratifying. Although reversing it could be done easily. Just take out the plants and the fish, add chlorine and flip the switch (on the pump). I would never change it back, though."
The Kents say their pond requires little maintenance.
Water flows over terraced rocks in the pond. The Kents used about 6 tons of rock.
"I let everything take care of itself," Donna Kent says. "I'll hand water the plants once a week, and I put epsom salt on the ferns."
The screened patio helps keep down algae blooms in the pond, she says, and it provides good filtered light for the plants and fish. Mosquitoes are not a problem, either; their population is checked by the frogs that she says come out at night and climb up the sliding glass doors.
This is the Kents' second pond. Their first "a minor-league effort," Donna Kent calls it is in their back yard beyond the screened patio. It, too, is stocked with koi and surrounded by lush plantings. She dug it out and created a deeper section covered with water plants "as a hiding place" for the fish after she watched an egret swoop down, grab one and then eat it from a high fence perch, out of whacking distance. Nearby, an old greenhouse frame, glass panels removed, is covered with jasmine, shading the window of her studio.
An artist with a handyman's skill, Donna Kent met her match when she married John 19 years ago, a second marriage for both.
"We do everything ourselves," she says, pointing to the parquet and tile floors, inlaid with Donna-designed mosaics, and the kitchen cabinets with John-designed stained-glass panels. They recently refinished a paneled wall, which she covered with brown paper, spackled and painted to look like old stone.
They are rarely without a project, though she would like to slow down.
"My husband's fallen off the roof six times in the last year," Donna Kent says. "I tell him we can hire people to do some things. But he's retired military, and I have to give in to him sometimes."
Which is how the bridge was built.
"We fought so much over that bridge," she says of the black planks that stretch across one end of the pond.
"I said it would look you know but he insisted on building it," she says.
Donna Kent, who rarely yields on aesthetic decisions in their house and garden, had the last words on that issue, and a plaque affixed to the bridge spells them out: "Bridge Over Objections."
Copyright 2018 The Lawrence Journal-World. All rights reserved. This material may not be published, broadcast, rewritten or redistributed. We strive to uphold our values for every story published.