Abilene — Thousands will gather in President Dwight D. Eisenhower's hometown this week to honor the nation's 34th president.
Each October, the Eisenhower Center celebrates the popular leader's birthday. He was born Oct. 14, 1890.
Former President George Bush and his wife, Barbara, are scheduled to attend ceremonies on Saturday, along with members of the Eisenhower family. The Eisenhower Day School Program Thursday attracted more than 3,000 students from across the state.
This year marks the 50th anniversary of Eisenhower's election and 40th anniversary of the opening of the Eisenhower Library.
Visitors will be able to tour the newly renovated $3.2 million presidential gallery, which is among five galleries telling the story of Eisenhower's life. The new gallery showcases the Eisenhower presidential years and was last refurbished in 1976.
The changes allow visitors to participate in problem-solving exercises and history games and see videotaped interviews with members of the Eisenhower administration.
"I think kids will love it, and adults who lived in the 1950s will find it nostalgic," museum curator Dennis Medina said.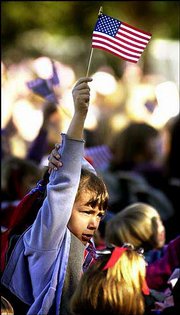 One problem with the old gallery, Medina said, was that many visitors viewed the 1950s-era artifacts as ancient history. They simply had no idea who Eisenhower was.
Exhibits include Eisenhower's life in the White House, including the General Electric stove where he cooked chili, the gifts he received as president, and his retirement years spent as a golfer and painter.
Besides being known as commander-in-chief of Allied forces during World War II, Eisenhower should be remembered as "Father of the Interstate Highway System," Medina said.
Still others will link Eisenhower's name to the civil rights movement because it was Eisenhower who in 1957 ordered federal troops to Little Rock to help integrate Central High School.
"Our emphasis is that everyone around the world will know Eisenhower," Medina said.
Copyright 2018 The Associated Press. All rights reserved. This material may not be published, broadcast, rewritten or redistributed. We strive to uphold our values for every story published.