Marcy, N.Y. — A pedestrian bridge under construction collapsed Thursday as concrete was being poured onto its steel girders, killing one worker and injuring at least nine others, authorities said.
One of the injured was in critical condition, and two were under evaluation with severe injuries.
The workers were standing on the bridge when the girders crashed onto an unfinished highway 20 feet below, said Paul Obernesser, regional construction engineer for the state Transportation Department.
It took dozens of emergency workers about 45 minutes to free everyone from the debris.
The steel skeleton had been put in place over the summer and had passed safety inspections, Obernesser said.
"We're trying to find out exactly what happened," said Alice Romanych, an assistant to the regional director of the Transportation Department. "We want to make sure it never happens again."
The Federal Highway Administration and U.S. Occupational Safety and Health Administration sent inspectors.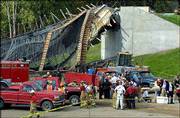 One of the injured was a Transportation Department employee. The rest, including the man who died 46-year-old Scott Couchman worked for the contractor, Tioga Construction, company officials said.
"Normally a deck pour is stressful in certain respects, but not from the standpoint of a bridge suddenly collapsing," said Charles Sirowatka, a project engineer with the construction company.
The 170-foot-long, 12-foot-wide pedestrian bridge was being built over a new section of the Utica-Rome Expressway, a project that started in the late 1970s to link the two cities with a four-lane highway.
The $165 million project is expected to be completed in 2004. The pedestrian bridge was supposed to be finished this month.
Marcy is northwest of Utica in central New York state.
Copyright 2018 The Associated Press. All rights reserved. This material may not be published, broadcast, rewritten or redistributed. We strive to uphold our values for every story published.