Norman, Okla — Some of the players will be different but the philosophy will be the same when Oklahoma's defense goes against Chris Simms, Cedric Benson and the rest of the Texas offense on Saturday.
"We're prepared to get after the run game first," coach Bob Stoops said.
By stopping the run, which the No. 2 Sooners have done in winning the past two games, they can force third-ranked Texas to become more one-dimensional. If Simms is forced to throw out of necessity instead of by choice, Oklahoma likes its chances.
This year's defense doesn't have an All-America safety and linebacker, as it did a year ago in Roy Williams and Rocky Calmus. But Stoops and his defensive coaches are encouraged about the way this unit matches up with Texas.
"You have to have 11 great players, let's face it," co-defensive coordinator Mike Stoops said. "If there's a weakness, they'll exploit it.
"We feel good about all of our 11. We feel like we've played as well as we have at any time last year. We just need to be more consistent in what we do."
Texas coach Mack Brown won't argue that point.
"You lose two guys like Rocky Calmus and Roy Williams, and you think from an opponent's standpoint it's really going to make a difference," Brown said. "I don't see any difference in OU's defense."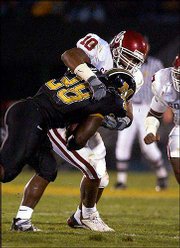 Teddy Lehman, who has moved into Calmus' spot at weakside linebacker, is second on the team with 52 tackles. The leading tackler is newcomer Lance Mitchell with 62, including 11 for lost yardage. He had 19 tackles a week ago against Missouri.
Co-defensive coordinator Brent Venables says Mitchell, the middle linebacker, has adapted as quickly as any junior college transfer he has coached.
The Sooners have another junior college transfer at the third linebacker spot, Pasha Jackson. He hasn't been as consistent as Lehman and Mitchell, but he does have two of Oklahoma's six sacks.
The linebackers must play well in order to get a handle on Benson, who has rushed for 124 yards per game this season.
"We'll have our hands full," Venables said. "It's certainly better than the alternative a couple guys in there that can't play.
"It'll be a great challenge and I know my guys are going to want to be extremely committed and prepared to have a great game. They'll need to play well for us to have success."
Simms doesn't have to concern himself with Roy Williams, whose hit on Simms produced the deciding touchdown for Oklahoma in the closing minutes of last year's game. The new free safety is redshirt freshman Eric Bassey, who has 26 tackles, an interception and three passes broken up, but who will be getting his first taste of the Texas-Oklahoma game.
Copyright 2018 The Associated Press. All rights reserved. This material may not be published, broadcast, rewritten or redistributed. We strive to uphold our values for every story published.