Erie Township, Mich. — A truck hauling steel coils crashed into the side of a school bus taking youngsters on a field trip Thursday, injuring more than three dozen children and adults, eight critically.
"It was just bodies all over the place," said firefighter Cliff Moore.
The impact sent the bus, carrying kindergartners and first- and second-graders on a field trip, spinning across the road and threw at least five children onto the pavement and into a yard.
"When I got to it, the kids were screaming," said Pat Labelle, who was driving behind the bus. "They were screaming like there was no tomorrow."
He said he took a first-aid kit from his car, ran to the bus and crawled in through the back door, pulling children out because he feared a fire would erupt.
Hospitals treated at least 48 people. All eight of those in critical condition are children, and four children and three adults including a 67-year-old woman were in serious condition. The bus was carrying 43 children and 17 adults.
The bus, operated by Trinity Bus Co., was one of four in a caravan from Pierre Toussaint Academy, a charter school in Detroit. The first bus crossed an intersection safely, but the truck collided with the second, tearing a hole in its side, authorities said.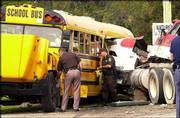 The truck, which was carrying 38 tons of steel, appeared to have pushed the bus about 100 feet, authorities said.
"It doesn't appear the steel hauler was at fault," sheriff's Maj. Tom Scott said.
The bus driver entered the intersection and failed to yield to oncoming traffic, the sheriff's department said later Thursday.
The truck driver was treated at a hospital and released. The bus driver was not hurt.
Jerry Sheppard, president of Trinity, said the company had just hired the bus driver Monday, but he had driven for another company and had an "impeccable" driving record.
Copyright 2018 The Associated Press. All rights reserved. This material may not be published, broadcast, rewritten or redistributed. We strive to uphold our values for every story published.