The owner of Downtown Lawrence's Pochi Tea Station has a surprise for traditional tea drinkers.
It's called bubble tea, and it has been one of the most popular drink trends on the West Coast for the past five years, said Erlinda Tjhai, owner of the new shop at 125 E. 10th St.
Bubble tea is a mixture of black and green teas, but with a twist. The twist involves a substance called tapioca pearls that are added to the drinks. The pearls are similar to the tapioca found in pudding, only larger, sweeter and chewier.
"It's makes tea almost like a drink and food at the same time because it makes you full after you drink it," Tjhai said. "It's hard to explain, but it just adds something sweet and chewy to your drink. The pearls are just fun to chew."
Fun, but different too, she said.
"People who have never tried it before seem to be pretty surprised when they end up with a pearl in their mouth," Tjhai said. "It is definitely nothing like a glass of ice tea."
The fact that it is different is what led Tjhai, a 2001 Kansas University engineering graduate, to open the restaurant.
"Lawrence is a very open-minded community," Tjhai said. "They're always up for trying new things, and with all the restaurants coming out, I feel like we are ready for something a little different."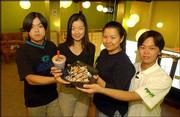 The bubble tea concept began about 10 years ago in Taiwan, and the trend became popular about 5 years ago in California, said Victor Tjandra, a co-founder of the first Pochi Tea Station in Seattle. Tjandra is a partner in Pochi Tea Station Franchise Company that is franchising the Pochi stores.
The Lawrence store was the fourth to open, with others in Ohio, Washington and Wisconsin. The company hopes to add about five new stores a year. Tjandra said the company was interested in locating a franchise in Lawrence because of its student population.
"There are older people who come in because they like the drink, but our main target market is actually the students who are looking for a place to hang out and not have to worry about getting chased away," Tjandra said.
Tjhai hired KU architectural student Justin Garcia to design the store so it would appeal to students. Tjhai said she hoped the store created a "coffee-house type of atmosphere without the coffee." In addition to standard tables and chairs, the restaurant also includes sofas, a television tuned to Asian music videos, a stereo system and a wide array of magazines and board games.
"It's meant to be a very trendy, hip and hot place, but also clean and cozy," Tjhai said. "We also wanted it to have an Asian feel since that is where the tea comes from."
In addition to adding the tapioca pearls to tea mixtures, the store adds the pearls which Tjhai describes as similar to gummy bears to flavored milks, juices and fruit smoothies.
The restaurant also has a food menu that features several dishes from Tjhai's native country of Indonesia, in addition to a large selection of crs.
The store has six employees and is open from 11:30 a.m. to 10 p.m. Monday through Thursday, 11:30 a.m. to 2 a.m. Friday and Saturday and from noon to 8 p.m. Sunday.
Prices for the teas and other drinks range from $2.80 to $3.35. Food prices for most items are about $5.
Copyright 2018 The Lawrence Journal-World. All rights reserved. This material may not be published, broadcast, rewritten or redistributed. We strive to uphold our values for every story published.