Randleman, N.C. — Two years after Adam Petty's death, the NASCAR community honored the late racer in a celebration to mark the start of construction on a children's camp being built in his honor.
Winston Cup champions Dale Jarrett and Bobby Labonte, car owners Rick Hendrick, Joe Gibbs and Felix Sabates and NASCAR president Mike Helton headlined dozens of NASCAR celebrities who joined actors Paul Newman, Andie MacDowell and close to 1,000 other supporters in celebrating the Victory Junction Gang Camp on Tuesday.
"When we topped the hill, I was humbled and in awe at the people who are here," Kyle Petty said as he choked back tears. "You will never know how much this means for me to see you guys here."
Petty's 19-year-old son was killed in an accident while practicing for a Busch series race at New Hampshire International Speedway in May, 2000.
He had made his Winston Cup debut just a few weeks before his death, and his participation in that race made the Pettys the only four-generation family of racers in NASCAR.
Before the wreck, his parents had been active in trying to start a camp for children with life-threatening illnesses modeled after Newman's Hole in the Wall Gang Camps. Those efforts were sidelined in the months following Adam's death, but his mother, Pattie, eventually rekindled them as a way to honor her oldest son.
The Pettys then went to work raising money for the camp and have collected $10 million of the needed $24 million to complete the efforts.
Many of the funds have come from the NASCAR community as drivers have either made donations, participated in the Pettys' annual charity motorcycle ride or held their own fund-raisers.
Ken Schrader recently held a celebrity night of racing at a track he owns in Missouri that raised $100,000 for the camp. And when Tony Stewart competed in both the Indianapolis 500 and Coca-Cola 600 on the same day last year, he teamed with sponsor Home Depot and Gibbs to donate a combined $300 for every lap he completed during the double-duty.
"This was never supposed to be a Petty thing," said seven-time Winston Cup champion Richard Petty. "This was supposed to be a NASCAR thing and it's just so incredible to see our community help out the way it has.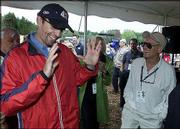 "We've got 10 to 12 drivers here, car owners, crew chiefs, all people who have their own things to do and instead, they came out to celebrate this day with us."
The 65-acre camp will be located on land donated by Richard and Lynda Petty and will be the seventh member of Newman's camps, which were founded in 1988.
The camp will provide children with chronic or terminal diseases a weeklong haven to ride horses, swim, paddle canoes or perform on a stage. Medical staff stand by at all times to provide everything from insulin to chemotherapy. Goodys Headache Powder presented the Pettys with a $1 million check at the celebration in support of the medical center.
"This is about luck, the brutality of luck in some cases served as the impetus to bring this camp to life," Newman said. "The brutality of luck, especially in a young kid who may not have a lifetime ... and luck on the other end of the spectrum, especially being born in this country with good health and the wherewithal to be able to create something like this."
The Pettys' camp, which is scheduled to open in 2004, will serve children from North Carolina, South Carolina and Virginia.
"I think the one thing people will always remember about Adam was his smile," Pattie Petty said. "This camp is going to bring a lot of smiles to a lot of children and that's what Adam would have wanted."
After the ceremony, the Pettys took a group of supporters, including Newman and Aerosmith guitarist Brad Whitford to a local race track for a day of racing. Others were invited to ride horses on the family farm as the Pettys mingled with their extended family and shared memories of Adam.
"On one hand it's hard because we want to move on and get past this," Richard Petty said. "But it makes you feel real good to see how many people are here for us and how many people want to share with us in Adam's memory."
Copyright 2018 The Associated Press. All rights reserved. This material may not be published, broadcast, rewritten or redistributed. We strive to uphold our values for every story published.