Orchard Park, N.Y. — Cornerback Phillip Buchanon wasn't going to miss the same pass twice.
After allowing an attempt by Drew Bledsoe to slip through his hands, Buchanon intercepted the next one and ran it back 81 yards for a touchdown, sparking the Oakland Raiders' 49-31 win over the Buffalo Bills on Sunday to remain unbeaten at 4-0.
Oakland is now the NFL's only unbeaten team, following San Diego's 26-9 loss to Denver. The Raiders have matched their best start to a season in franchise history, last going 4-0 in 1990.
They have Buchanon to thank.
"The first time it happened, I dropped the ball, and I was like, 'Dang, that was the play,"' Buchanon said. "Then something told me, 'Don't worry about it."'
Buchanon's interception, the second of his rookie career since taking over for injured starter Charles Woodson, was the key in a matchup between two of the NFL's most potent offenses, who combined for 974 yards.
The interception came with Oakland clinging to a 35-31 lead and Bledsoe orchestrating another scoring threat with eight minutes left.
After almost being intercepted by Buchanon on the previous down, Bledsoe tried the same play facing third-and-8 on Oakland's 27. Bledsoe rolled to his right and had Peerless Price open in the flat, when Buchanon leaped and grabbed the ball with both hands and ran it back untouched up the left sideline.
Rich Gannon did the rest on Oakland's next possession, hitting Jerry Rice for a 20-yard pass to seal the victory.
Gannon finished 23-of-38 for 357 yards, while Charlie Garner had 94 yards rushing and scored two touchdowns.
Bledsoe and the Bills (2-3) finally ran out of late-game dramatics after becoming the first team to open an NFL season having three of their first four games decided in overtime.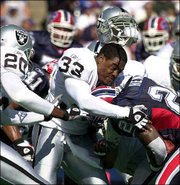 Bledsoe finished 32-of-53 for 417 yards and two touchdowns, recording his second 400-yard passing game of the season and sixth of his career. But he was undone by three interceptions, two of which led to touchdowns.
"Yes, we have big-play potential, but we have to eliminate some of the mistakes that's allowing the other teams to score points off us," Bledsoe said. "It was just a poor play on my part."
Price led Buffalo with 126 yards receiving and a touchdown. Dave Moore, Travis Henry and Larry Centers also scored touchdowns, while Mike Hollis hit a 30-yard field goal for a Bills team that's averaging almost 33 points a game.
Buffalo wasn't helped by a defense that has yet to show it can contain an opponent.
In allowing the Raiders 495 yards net offense, Buffalo is giving up an average 358 yards and 36 points a game.
"I look at myself first," Bills defensive coordinator Jerry Gray said. "The Raiders are a good team, but so is everybody else on offense if you let them throw the ball downfield."
Along with allowing the Raiders to convert seven of 13 third-down situations, Buffalo failed to create a turnover and remains the only team that has yet to record an interception this season.
"Our offense scored enough points, but we gave them too many big plays," linebacker London Fletcher said. "I'm sure our offense does feel a lot of pressure, especially the way we've played this season."
The Raiders, in comparison, have nothing to complain about, especially with Buchanon.
Oakland's first-round pick in April's draft, Buchanon is coming off a game in which he returned a punt 83 yards for a touchdown in the Raiders' 52-25 win over Tennessee.
Broncos 26, Chargers 9
Denver Brian Griese threw for 316 yards and two touchdowns, and Denver held San Diego's LaDainian Tomlinson to 48 yards, a week after he tied the team record with 217 against New England. Denver (4-1) bottled up San Diego's running game, forcing the Chargers to go almost exclusively with the pass. Drew Brees was 26-for-42 for 235 yards, but he was intercepted twice by Deltha O'Neal. San Diego (4-1) crossed midfield just four times, with one drive ending on an interception by O'Neal in the end zone.
Dolphins 26, Patriots 13
Miami Jay Fiedler threw two touchdowns and ran for another all on third down as Miami defeated New England to take over sole possession of first place in the AFC East. The Dolphins improved to 4-1, while the Patriots fell to 3-2 with their second straight defeat. They're 0-13 in Miami in September and October. Coming off a 48-30 loss at Kansas City, the Dolphins regained their dominant form on defense. End Jason Taylor had two sacks and forced a fumble by New England quarterback Tom Brady to set up Miami's first score.
Redskins 31, Titans 14
Nashville, Tenn. Steve Spurrier found a new quarterback in rookie Patrick Ramsey, who relieved injured Danny Wuerffel and threw for 268 yards and two touchdowns. The Redskins (2-2) bounced back from two straight defeats behind their first-round draft pick, who went 20-of-34 and helped his team roll up 442 yards against the hapless Titans (1-4).
49ers 37, Rams 13
San Francisco The San Francisco 49ers pounded their biggest rivals with delight as Jeff Garcia threw for a touchdown and ran for another in a rout that left the defending NFC champions 0-5. Jason Webster staggered the already roughed-up Rams when he intercepted a pass by backup Jamie Martin starting for the injured Kurt Warner and returned it 37 yards for a touchdown and a 27-3 lead just before halftime.
Jaguars 28, Eagles 25
Jacksonville, Fla. Rookie John Henderson sacked Donovan McNabb three times, and Bobby Shaw returned a punt 69 yards in the Jaguars' close victory. Jacksonville (3-1) made the big plays and the right calls, especially early in the fourth quarter, when coach Tom Coughlin took a gamble, going for it on fourth-and-1 from the Philly 2 with a 14-10 lead. Stacey Mack broke Barry Gardner's tackle for the first down, and scored from the 1 on the next play for a 21-10 lead.
Saints 32, Steelers 29
New Orleans Deuce McAllister ran for 123 yards and scored two touchdowns as the Saints improved to 4-1. Steelers quarterback Tommy Maddox, making his first NFL start since 1992, played well in place of the benched Kordell Stewart, but defense was again the problem for Pittsburgh (1-3).
Buccaneers 20, Falcons 6
Atlanta Keyshawn Johnson caught a 76-yard pass for his first touchdown of the season, and the Buccaneers got another defensive TD when Warren Sapp intercepted a pass and lateraled to Derrick Brooks. Tampa Bay (4-1) has allowed only 27 points in winning four straight games, and the defense hasn't given up a touchdown on the road all season.
Giants 21, Cowboys 17
Irving, Texas Kerry Collins, who entered the game leading the NFC in passing yardage but had thrown for only one score, threw three TD passes to lead the Giants. New York (3-2) took the lead for good when Collins hit Marcellus Rivers for a 17-yard score with 6:51 left. The Cowboys (2-3) had a chance to pull out a second straight late victory, but Quincy Carter overthrew Antonio Bryant on a long pass with less than three minutes left.
Cardinals 16, Panthers 13
Charlotte, N.C. Bill Gramatica kicked a 50-yard field goal with 16 seconds left as Arizona improved to 3-2, its best start since 1991. The Panthers (3-2) clung to a 13-6 lead through the fourth quarter, until the Cardinals' Coby Rhinehart intercepted a pass by Rodney Peete one of four Carolina turnovers.
Colts 28, Bengals 21
Indianapolis Peyton Manning threw for two touchdowns and ran for another, while Marvin Harrison caught nine passes for 145 yards and a touchdown as Indianapolis held off the winless Bengals. Indy (3-1) finally got its offense in sync. Edgerrin James scored his first TD in more than a year, and the defense also produced four turnovers.
Ravens 26, Browns 21
Cleveland The Browns needed to get Ray Lewis out of the game before mounting a late comeback. For the second time in six days, Lewis turned a national TV game into his own prime-time special for three quarters as Baltimore built a big lead and held on. Lewis, Baltimore's unstoppable middle linebacker, had an interception, forced a fumble that he recovered and made four tackles before he injured his left shoulder and had to sit out the fourth quarter. Cleveland (2-3) trailed 23-0 at the start of the fourth quarter, but with starting quarterback Tim Couch sitting dazed on the bench with a concussion, the Browns stormed back behind Kelly Holcomb. After recovering an onside kick, the Browns moved the ball to the Ravens' 17 in the final minute, but Holcomb's final pass was picked off by safety Ed Reed.
Copyright 2018 The Associated Press. All rights reserved. This material may not be published, broadcast, rewritten or redistributed. We strive to uphold our values for every story published.