Stop.
That's the message some of Lawrence's spiritual leaders would give the nation's lawmakers in Washington, D.C., who appear to be preparing the United States for a pre-emptive military strike against Iraq.
Several members of the clergy serving Lawrence say they are troubled by largely unaddressed moral issues raised by the looming possibility that America might invade that Middle Eastern nation and forcibly remove Saddam Hussein from power.
Some pastors say such an undertaking simply doesn't meet the conditions needed for a just war, while others say the country's politicians haven't fully thought about the real consequences of such a conflict in terms of human suffering and a potentially tremendous loss of life to both sides.
It's an issue that's weighing heavily on the minds of those who lead the city's congregations and faith communities.
Like the Rev. Charles Polifka, pastor of St. John the Evangelist Catholic Church, 1234 Ky.
"I addressed it last week in our adult education class. The United States Conference of Catholic Bishops came out with a very strong statement that it's very hard to justify (a war with Iraq), and our leaders in Rome have said it's very hard to justify a pre-emptive strike," Polifka said.
"I'm just basically confused about the issue and have to read more. I want to trust our (country's) leaders, but as they make our decisions, we have to make sure they're not doing it for the wrong kind of reasons."
Doctrines of the necessary conditions for a just war have been developed by thinkers from Greek philosopher Aristotle to St. Thomas Aquinas, Polifka noted.
So far, it doesn't appear the United States has made a solid case for action against Iraq at least on a moral basis.
"The people who live there have a right to life, too. Are we going to destroy their lives, their well-being, their right to liberty, their right to freedom? Those questions have to be asked," Polifka said.
"Honestly, I don't know. I'm still formulating my thoughts on this thing. I just don't want us to go to war, because we're going to lose a lot of life."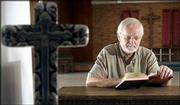 Politics of compassion
The Rev. Thad Holcombe, director of Ecumenical Christian Ministries, 1204 Oread, is outspoken in his opposition to a pending conflict with Iraq.
He has participated in two recent peace marches, sponsored by the Lawrence Coalition for Peace and Justice, that drew hundreds of participants.
And he can be found at noon each Saturday taking part in a peace vigil that typically draws about 80 people in front of the Douglas County Courthouse.
His opposition to a pre-emptive military strike is three-fold.
Holcombe believes such a course would increase long-term instability in the Middle East, inflaming the passions of extremists; be seen as a Western crusade, antagonizing relations with the Islamic world; and violate international norms.
"In the background of this, I'm wondering, are we so callous now as to think of war as just a win-or-lose abstraction? The consequences are that Iraq is going to lose 100,000 people those are mothers, fathers and children," Holcombe said.
"It's foolish, scary and it will cause so much pain. Wouldn't it be wonderful if, instead of the politics of power, we used the politics of compassion?"
His thoughts are echoed by the Rev. Lewis Hinshaw, associate pastor of Plymouth Congregational Church, 925 Vt.
"I am anxious, because I feel there are known and unknown consequences for the Middle East region and our own country," Hinshaw said. "I just don't think there's any clearly articulated notion of after the bombing and the shooting what then? Or what other forms of violence will be unleashed simply because we choose the path of violence?"
You shall not murder
The Rev. Vicki Penner comes from a long religious tradition of pacifism.
She serves as pastor of Peace Mennonite Church, which meets in the Ecumenical Christian Ministries building.
Penner has serious concerns about the direction the United States is headed and its stance toward Iraq.
"Peace is made by listening, hearing deeply and addressing real issues, not increasing the tensions and polarizing discussions. When you're talking about war, you're obviously polarizing the discussion rather than figuring out what really needs to be done for peace and security," she said.
Penner's belief in pacifism, which is drawn from the Bible, guides her thinking about the current conflict.
"The biblical prophets again and again tell the rulers of Israel that the strength and security of their nation is based on how they treat the most vulnerable among them. If we are looking for strength and peace, we need to look to the most vulnerable in our own country and care for them," she said.
"As Christian peacemakers, our focus should be on de-escalating tensions, finding out real needs and listening to all parties."
The prospect of war is a timely issue for the Rev. Marcus McFaul's congregation, First Baptist Church, 1330 Kasold Drive.
Through a weekly series of sermons, McFaul, senior pastor, is leading church members in an examination of the Ten Commandments.
This Sunday, McFaul will discuss the Sixth Commandment: You shall not murder.
"That commandment leads us to really consider issues like violence, anger, terror and destruction and how God is never on the side of that," he said.
McFaul doubts that the conditions necessary for the United States to wage a justified war on Iraq have been met yet.
"I don't think that we've arrived at the place where all exhaustive means for a negotiated peace have been satisfied. Are there moral issues involved here? You bet there are, because human life is involved," he said.
"And if our tradition says anything, it is that each and every human life was created in the image of God. That means Iraqis, too."
Copyright 2018 The Lawrence Journal-World. All rights reserved. This material may not be published, broadcast, rewritten or redistributed. We strive to uphold our values for every story published.