When you think of Kansas, ice skating is not one of the first outdoor activities that comes to mind. But it is an activity that is growing in popularity here in America's heartland, even with Lawrence students who face a long drive to do what they love.
On a warm weekend in September, at Pepsi Ice Midwest, an indoor skating rink in Overland Park, skaters of all ages and abilities show up to practice for figure skating, hockey or just to have fun.
Martin Dewitt, 13, of Overland Park, tears around the ice at incredible speed, weaving through groups of slower skaters as he makes his way around the rink. He has been ice skating and playing hockey for eight years, continuing for the sheer fun of it.
"You're able to do whatever you want (on skates)," he says.
An accomplished skater, he enthusiastically talks about how he was drafted onto a high school varsity team this year. But his favorite skating memory is when he scored his first goal playing hockey, at age 8.
Martin practices regularly, working on his speed and agility.
"I always feel like I have to skate harder," he says. "I'm never good enough. I want to be the best."
Meanwhile, Caroline Blair, 14, Overland Park, talks with her mother, Cindy Blair, as they both practice their figure skating. Caroline, who received skating classes for her 14th birthday, has been skating for eight months. Her mom and younger sister, Kerri, 12, started lessons as well.
Caroline says her favorite things to do on the ice are jumps. On the other hand, she hates working on edges (a skate blade has two razor-sharp edges, and skaters must learn to go back and forth between each one for different maneuvers) and free turns (a move where you pivot quickly from going forward to backward, on only one skate).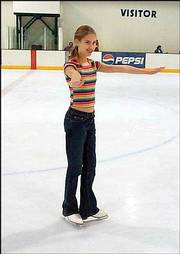 Emily Wen then passes by, grinning ear to ear as she glides along on one skate. She is only 4 1/2 years old and already has won a gold medal in a figure skating competition.
"She just has fun skating," her mother says. "She has a lot of energy for it."
There are skaters from the Lawrence area as well. The Overland Park facility is the closest ice rink to Lawrence. Jennifer Hurst, 18, finds the 35-mile trip to the rink to be a problem.
"Getting up at 4:30 in the morning (to get to the ice rink on time) is a lot of fun," she says sarcastically.
"It would be nice to have a rink in Lawrence, so kids could have a healthy activity to participate in. There just isn't anything like that here right now."
She has been skating for 3 1/2 years, traveling to Colorado, Delaware and all over Kansas for figure skating competitions. She has won three gold medals.
Despite the long drive, Jennifer is determined to keep up her skating.
"I want to see how far I can go with it," she says.
Copyright 2018 The Lawrence Journal-World. All rights reserved. This material may not be published, broadcast, rewritten or redistributed. We strive to uphold our values for every story published.