Deep-fried turkey.
It sounds like something Elvis would serve as the centerpiece of his Thanksgiving spread at Graceland.
In fact, the tradition of deep-frying the holiday bird does have its roots in the South. Louisiana's Cajuns are typically credited with developing this technique.
But now the practice has taken flight, and the popularity of preparing deep-fried turkeys for Thanksgiving is boiling up all over the country - including Kansas.
Tom Cottin has some experience with this growing trend.
"We had a grand opening for the rental center in our store, and we rent turkey fryers," said Cottin, owner of Cottin's Hardware & Rental, 1832 Mass. "So we put on a little party, serving lunch and dinner all afternoon. We deep fried 20 turkeys."
The celebration - and the turkeys - were a big hit with the crowd.
"The flavor is fantastic when you deep fry 'em. It's extremely tender and not dry at all. There's also marinades you can inject into the turkey before you fry it. We ended up renting the turkey fryers quite a bit."
Cottin's not the only one in Lawrence who savors the taste of deep-fried turkey. The cooking method seems to have taken wing among many in town.
Moist 'n juicy
Turkey fryers are a hot item among customers at Westlake Ace Hardware, 711 W. 23rd St.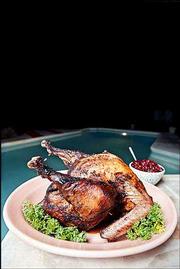 "We've carried them for a couple years now, and sales seem to get stronger every year. Customers say that somehow it just seals in the moistness of the meat, that it's the most tender turkey they've ever had," said Roy Latham, store manager.
"It started off slow, and then really picked up. The last year and a half, sales have been very strong. I guess it's just word of mouth."
It's much the same story at Orscheln's Farm & Home Supply, 1541 W. 23rd St., where turkey fryers are flying out the door.
"We do sell quite a few of them. I know we've carried them for at least three years, probably longer than that," said Richard Corum, manager.
"The people I've talked to say you've never tasted better turkey. It just seals in all the juices."
Tim Jensen, Orscheln's assistant manager, agreed.
"It's been popular as long as I've been here, and that's 10 years. They do well as Christmas gifts. We had a demonstration of a fryer, and we made turkey sandwiches (with the meat). They were delicious, real moist with good flavor," he said.
The right equipment
Local hardware stores can supply all the gear you need to fry up a Thanksgiving bird of your own.
Westlake Ace Hardware - its other store is at 601 Kasold Drive - has a Brinkmann Turkey Fryer on sale for $39.99.
Westlake Ace also carries a Monster Marinade Injector for $5.99 and 2.5-gallon jugs of peanut oil, the preferred oil for frying turkeys, for $20.
Oscheln's sells Morrone Co.'s Ultimate Turkey Fryer & Seafood Boiler for $34.88. It comes with a marinade needle and a dry packet of ready-to-mix marinade included.
Orscheln's also offers 16-ounce jars of Creole Butter Injectable Marinade for $3.99 and 3-ounce packets of just-add-water marinade mix ($2.99 apiece) in several flavors: Cajun Style, mesquite, hickory, barbecue and herb/butter. The store has 4.5-gallon jugs of peanut oil for $27.97.
Or you can rent a turkey fryer from Cottin's Hardware for $15 per day, as well as a propane tank, if you need it (a flat $20 fee for a 20-lb. tank). The store also will order turkey fryers for customers to buy.
Cottin's sells marinade-injector kits with different flavors of marinade for $17.99.
"We've had lots of people rent the fryers for tailgating at Chief's games," Cottin said.
Blackened bird
One local fan of deep-fried turkeys is Joy Ludwig, a pastry assistant at Wheatfield's Bakery, 904 Vt., and a culinary student at Johnson County Community College.
Ludwig and her boyfriend bought a turkey fryer at Westlake Ace and have used it several times to fry up turkeys at holiday gatherings.
The first time the couple tried the fryer, the result was a success.
"It was probably the juiciest turkey I'd ever had. You could really taste the different seasonings that were in the marinade," said the aspiring chef.
The second time around, things got a bit dicey.
"We had the fryer outside on the lawn, which is a big no-no if anyone ever tries it. The grass was dry, and the turkey ended up being a lot larger than we estimated," Ludwig recalled.
"So the boiling oil spilled over, and there was a big grease fire. It was burning up the grass. We were running from inside the house with pitchers of water to put it out."
The incident wasn't a complete disaster.
"The bird was still just as juicy as the first time, even though we ended up blackening part of the dark meat," she said. "We all laughed about the situation, but everyone did say how well it turned out."
Copyright 2018 The Lawrence Journal-World. All rights reserved. This material may not be published, broadcast, rewritten or redistributed. We strive to uphold our values for every story published.