Haskell Indian Nations University basketball coach Melvin Imotichey is realistic about his team's capabilities.
"It's like the old saying goes, 'You can't win the Kentucky Derby with a mule,'" said Imotichey after his team fell 86-77 to Avila on Tuesday at Coffin Sports Complex, despite a fiery late second-half comeback by HINU.
"I'm not trying to be negative, we just know every game is going to be a struggle and we're going to have to have a maximum performance."
At times Tuesday, the Fightin' Indians did, running like thoroughbreds to every loose ball, to their spot on defense and up and down on offense.
The problem for Haskell on Tuesday, and has been the case all season, is that the Indians again dug themselves too deep of a hole to crawl out of.
Haskell was hammered on the boards in the first half, 28-12. Although Avila took only five more shots than Haskell, its rebounding effort helped the Eagles to six more field goals.
"We're not a team that can afford to make mistakes," Imotichey said of his 1-9 team. "We have to play nearly perfect in every aspect."
For stretches in the second half Haskell did, like when the Indians went on a 14-5 run in the final five minutes and cut the lead to 81-73 on Leroy Silva's free throw with 1 1/2 minutes to play.
But too little time and too big of a cushion crushed the Indians' comeback bid.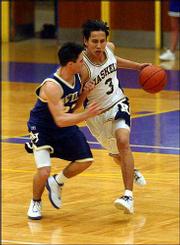 "Our thing all year is we'll play one good half," said HINU's Andy Deal, who scored 18 of his game-high 27 points in the second half. "We have to keep working hard and some how put together two halves of the same type of play."
Haskell, which along with Avila popped nine three-pointers, had two other players in double figures. Leroy Silva and Allen KnowsGun each scored 13 points.
Avila, which Haskell will play directly after the Holiday break, had six players with nine or more points, including Ryan McCarthy's 17 and Chris Savell's 16.
Although Imotichey was critical of his team's mistakes, he guaranteed his players' hard work will pay off this season.
"If the people in the stands didn't see how hard these kids worked tonight, they don't realize quality effort," he said. "One of the referees came up to me afterwards and told me to tell our kids that they played their hearts out.
"If they keep working this hard and play with the same intensity I'll guarantee we're going to win a few."
Copyright 2018 The Lawrence Journal-World. All rights reserved. This material may not be published, broadcast, rewritten or redistributed. We strive to uphold our values for every story published.