COLUMBUS, OHIO — Police reviewed video footage Monday to try to identify more people who overturned and burned cars and pelted officers with bottles and rocks after Ohio State's football victory against Michigan.
Fans set more than 100 street fires that started minutes after a 14-9 win Saturday, police said. The Buckeyes completed an unbeaten regular season and clinched a spot in the national championship game.
There also was weekend fan trouble at Cal-Stanford in Berkeley, Calif.; Clemson-South Carolina in Clemson, S.C.; and North Carolina State-Florida State in Raleigh, N.C. Players from both teams fought after Hawaii's 20-19 win against Cincinnati.
In Columbus, police said the mood was peaceful for several hours after the game, but after midnight cars were overturned and burned. Officers used tear gas and wooden pellets to disperse a crowd of several hundred near the campus.
Police in riot gear escorted firefighters through clouds of tear gas to the fires as crowds off campus tossed bottles and rocks.
About 20 cars were damaged by fire or overturning, and at one time a chain of nine cars was burning, police said. The fires were so intense a section of one street buckled. No serious injuries were reported.
The president of the Fiesta Bowl, John Junker, called the disturbances regrettable, but said bowl officials were not worried about the conduct of Ohio State fans.
"They happened in a lot of events across the nation," Junker said. "No community has a monopoly on knuckleheads. By and large, people around college football are responsible and honorable."
The damage amount in Columbus had not been estimated, police and fire officials said Monday, but fire Capt. Steve Saltsman said the total most likely will surpass tens of thousands of dollars.
Only one fire was in a home, Saltsman said. Someone entered the open door of a duplex south of the stadium where a party was going on and set fire to a pile of clothes in the basement, causing about $4,000 damage.
Police arrested 49 people, mainly on charges of having open alcoholic beverage containers or drinking underage, police spokeswoman Sherry Mercurio said.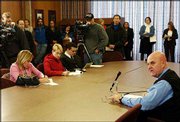 Authorities earlier said more charges would be filed as people were identified on amateur and news video. Police are asking that landlords whose apartment buildings were damaged provide lists of tenant names, Mercurio said.
"Even if you had a minor role in it, if you had any role at all, we're going to prosecute," Mercurio said.
The university determined 10 of those arrested attended Ohio State. Those students will be suspended and could be expelled if convicted, Ohio State President Karen Holbrook said.
The disturbance was the latest of more than a dozen postgame flare-ups at Ohio State, dating to the 1960s.
Holbrook, on the job since July, apologized Sunday to the city and the school's surrounding neighborhood.
"Yesterday afternoon, we witnessed all that's great about intercollegiate athletics," she said. "Last night ... we witnessed the very worst in reaction to what had been a joyful occasion."
Copyright 2018 The Associated Press. All rights reserved. This material may not be published, broadcast, rewritten or redistributed. We strive to uphold our values for every story published.