New York — Wayne Simien wants to see a Broadway show.
Jeff Graves seeks a subway ride to Ground Zero.
Keith Langford, meanwhile, merely wants to "people watch" when he's not busy practicing or playing Preseason NIT basketball games in the Big Apple this week.
"The best thing about New York is just being outside, walking around, seeing people, the different experiences you can have," said Langford, Kansas University's sophomore guard from Fort Worth, Texas, whose grandmother lives in the Bronx.
"You walk around and see stuff, like all the little chop shops, little stores, little bootleggers and everything like that."
"Bootleggers" can be found all over the metropolis, selling wristwatches, umbrellas, jackets, necklaces and the like on corners of midtown Manhattan.
"I might have bought a couple bootlegged CDs, that's about it," said Langford, who spent five days in New York last summer as a member of the Preseason NIT all-star traveling team.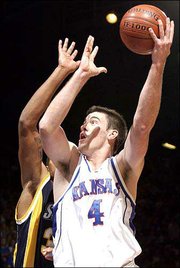 The all-stars, who went 6-1 on a trip to Canada, had their minds on basketball, except for one evening when all-stars coach George Bucci took the 11-person squad to a Yankees game.
"That was good," Langford said. "We sat in (owner George) Steinbrenner's suite. We got spoiled with all kind of drinks, hot dogs, anything we wanted. Saw a $30,000 clock. It was a real fun experience. I took a picture with the most recent World Series trophy. That was cool."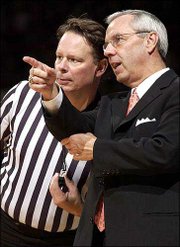 The Jayhawks won't have a lot of free time in New York. The squad left Monday afternoon and will return Saturday. Kansas coach Roy Williams said the team would practice today at the New Jersey Nets' training facility, attend the NIT banquet tonight, play Wednesday, practice Thursday, play Friday and return Saturday.
Last year, KU's players attended a New York Knicks' game at Madison Square Garden the day before driving
Copyright 2018 The Lawrence Journal-World. All rights reserved. This material may not be published, broadcast, rewritten or redistributed. We strive to uphold our values for every story published.