Tampa, Fla. — Tampa Bay coach Jon Gruden said Warren Sapp is not a dirty player and criticized Green Bay coach Mike Sherman for initiating an obscenity-laced argument with the Buccaneers All-Pro defensive tackle.
Sherman angrily confronted Sapp on Sunday, accusing him of taking a cheap shot at Chad Clifton during a third-quarter interception return that led to the go-ahead touchdown in the Buccaneers' 21-7 victory against the Packers.
Sapp vehemently denied that he leveled Clifton with an illegal hit and also refuted Sherman's contention that he made the situation worse by celebrating while Clifton remained on the ground.
The NFL reviewed the play Monday and said no disciplinary action will be taken because the hit was clean.
Gruden defended Sapp, saying the block not only was clean, but that Sherman was wrong for instigating the post-game exchange that overshadowed a meeting of the teams with the top records in the NFL.
"Warren Sapp did nothing illegal or malicious. He made an aggressive play," Gruden said Monday. "When a ball is intercepted, we're trying to score. No matter how that play is interpreted by a coach on another team or a fan of another team, Warren Sapp made no error whatsoever. And the celebration had nothing to do with the guy being injured, I can guarantee you that."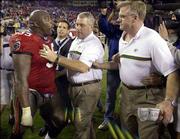 Clifton remained hospitalized in Tampa for a right hip injury that Sherman said could end the offensive tackle's season. The coach said the third-year pro separated ligaments that hold the pelvis together.
"It's a dangerous game, it's a tough game, it's a physical game. That much I understand," Sherman said. "I responded yesterday to what I thought was inappropriate. If the term is unnecessary roughness, I thought it was unnecessary. And even more so, I thought the reaction afterward was what I responded more to."
Gruden and Bucs linebacker Derrick Brooks insisted Sapp was not celebrating Clifton being down on the ground, but rather Brian Kelly's interception and 31-yard return at a critical point in the game.
"That's something that gets lost," Brooks said. "You make a hit on someone, you don't know if that guy is hurt or not. You're celebrating the play"
Copyright 2018 The Associated Press. All rights reserved. This material may not be published, broadcast, rewritten or redistributed. We strive to uphold our values for every story published.