New York — Federal authorities broke up what they called the biggest identity theft case in U.S. history and charged three men Monday with stealing credit information, draining victims' bank accounts and ruining their credit.
U.S. Atty. James Comey said the losses were calculated so far at $2.7 million but would balloon to many more millions and affect consumers in every state. He said credit information for 30,000 people was stolen and authorities were trying to determine how many of those individuals were victimized.
The prosecutor called the case "every American's worst financial nightmare multiplied tens of thousands of times."
Authorities said the scheme began about three years ago when Philip Cummings, a help-desk worker at Teledata Communications, a Long Island software company, sold passwords and codes for downloading consumer credit reports to an unidentified person.
Cummings was allegedly paid roughly $30 for each report, and the information was then passed on to at least 20 other people, who set out to make money from the stolen information, prosecutors said.
"The potential windfall was probably far greater than the content of a bank vault, and they didn't even need a getaway car. All they needed was a phone and a computer, or so they thought," said FBI Assistant Director Kevin P. Donovan.
More than 15,000 credit reports were stolen from Experian, a credit history bureau, using passwords belonging to Ford Motor Credit Corp., officials said.
They said thousands of other credit reports were stolen from companies such as Washington Mutual Finance Co. in Crossville, Tenn.; Dollar Bank in Cleveland; Sarah Bush Lincoln Health Center in Illinois; the Personal Finance Co. in Frankfort, Ind.; the Medical Bureau in Clearwater, Fla.; Vintage Apartments in Houston; and Community Bank of Chaska in Chaska, Minn.
Victims have reported losing money from their bank accounts, seeing their credit cards hit with unauthorized charges and having their identities assumed by strangers.
Comey said one sobbing victim telephoned prosecutors to say someone stole her identity, opened a $35,000 line of credit and cashed a check for $34,000.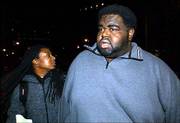 "So that's now on her back, that $34,000," he said. "The people that take the hit ultimately will be all of us, although in the short term it will be the companies that paid on the credit cards, the banks that lent them money."
Comey said there was no reason to suspect a terrorism connection, with simple greed the apparent motive. He said prosecutors were sending letters to the more than 30,000 victims, offering help.
He said the investigation was still in its early stages, though prosecutors had "found the guys who opened the fire hydrant of fraud."
Cummings, 33, of Cartersville, Ga., was released on $500,000 bond after an appearance Monday in Manhattan federal court at which he did not speak. His lawyer declined to comment on the charges. If convicted, Cummings could get up to 30 years in prison for wire fraud and millions in fines.
In addition to Cummings, the FBI also charged Linus Baptiste and Hakeem Mohammed in the fraud.
Baptiste allegedly downloaded hundreds of credit reports with Cummings' access passwords. Baptiste's lawyer declined to comment on the case. Mohammed has pleaded guilty to mail fraud for making changes to individual credit accounts.
In a company statement, Teledata officials said they had cooperated with the probe over the past eight months and were "pleased to learn that it has apparently come to a successful conclusion."
Copyright 2018 The Associated Press. All rights reserved. This material may not be published, broadcast, rewritten or redistributed. We strive to uphold our values for every story published.