A pair of fast-food restaurants and a new office building are in the works for the southwest corner of Sixth Street and Wakarusa Drive - but the closing of the Hereford House is not.
Doug Holiday, general manager of the west Lawrence steakhouse, said people for the last week have been asking him about rumors the Hereford House would soon close.
"There's absolutely no truth to that rumor," said Holiday, who said he'd even received phone calls about the story at home. "Our business here has been steadfastly improving since we started nearly two years ago.
"In fact, of the five restaurants in our company, the Lawrence location has had the biggest increase in sales over the past year. So we don't have any plans of going anywhere."
Holiday said he thought the rumor started because the company last month closed its restaurant at Union Station in Kansas City, Mo. The restaurant, which was a fast-food-style hamburger business, was called the Hereford House Grill.
But the Hereford House will be getting some new neighbors.
Greg DiVilbiss, a partner in the company that owns the 75,000-square-foot shopping center that includes the Hereford House, confirmed Monday a KFC restaurant and an A&W; restaurant had signed deals to locate on the property.
Both fast-food stores will be in a 3,700-square-foot building that will be built directly north of the Central National Bank building at 711 Wakarusa Drive.
Both restaurants will be owned by Topeka businessman Bill Cutrer, who also owns Lawrence's existing KFC restaurant at 23rd and Alabama streets. Cutrer said that location would remain open.
"Since we built our Lawrence store in 1972, the town has grown considerably," Cutrer said. "We were looking for another store because we know we have customers on the west side of town who need a location closer than our store on 23rd Street."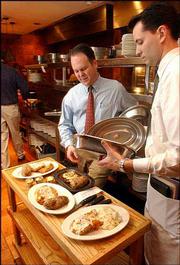 Cutrer said no timeline for opening the stores had been set, but that it is unlikely construction will begin before spring.
DiVilbiss said his company, The Bristol Groupe, also had received preliminary city approval for a new 10,000-square-foot office building that would be built at the southeast corner of Sixth Street and Congressional Drive.
DiVilbiss said his development group didn't plan on constructing the building until a tenant can be found to take a major part of the building.
"I could see an insurance company or a real estate firm, or maybe a bank," DiVilbiss said. "Any type of office business that needs some high visibility."
DiVilbiss said the company decided to build an office location at the corner because it believes a potential Wal-Mart store across the street will make the corner one of the highest profile locations in the city.
Wal-Mart officials last week pulled their proposed development plan for the northwest corner of Sixth Street and Wakarusa Drive, but DiVilbiss, Holiday, and Cutrer all said they are hoping a Wal-Mart is eventually built at the site because of the additional potential customers it would draw to the area.
"A lot of our tenants based their investment on having an anchor store out there," DiVilbiss said.
Copyright 2018 The Lawrence Journal-World. All rights reserved. This material may not be published, broadcast, rewritten or redistributed. We strive to uphold our values for every story published.