DURHAM, N.C. — Duke has a young team this season, and the Blue Devils played that way.
Chris Duhon matched his career high with 20 points and added 10 assists as the sixth-ranked Blue Devils needed a strong finish to beat Davidson for the 16th straight time, 95-80 Monday night.
Duke (2-0) defeated Army by 48 points to start the season Saturday, but struggled to put away the defending Southern Conference champions in this one, turning the ball over 21 times and shooting 40 percent in the second half.
It was a six-point game with 1:09 left.
"If we don't do a lot of really good things we don't win this game," said Duke coach Mike Krzyzewski, who has six freshmen on his roster. "We don't have Laettner or Hill or Williams. This is a different team and it has to earn its stuff."
Wayne Bernard had 21 of his career-high 28 points in the opening half and Ian Johnson added 23 in his collegiate debut as Davidson put up a fight until Duhon took control down the stretch.
"When you can attack for 40 minutes in Cameron Indoor Stadium it's quite a statement about toughness, about where we might be headed if we continue to have this kind of attitude," Davidson coach Bob McKillop said. "I am absolutely thrilled about this 40 minutes."
Duhon scored six points during the final 3:01, including a driving layup and four of the team's nine free throws in the last 1:03.
Duhon also had 20 points against Virginia on Feb. 14, 2001.
The Duke captain knows the Blue Devils have a lot of work to do in the coming months.
"We played very young," Duhon said. "We have a lot of people who don't have a lot of game experience. This is good for us. This gave us an opportunity to play in a pressure situation and to see how we can overcome it."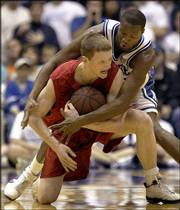 Three of Davidson's starters had four fouls with 13:52 left, hampering the comeback effort by the Wildcats.
The Blue Devils led by as many as 19 with 13:47 left and appeared in control after a four-point play by J.J. Redick and two free throws by Shavlik Randolph. But the Wildcats refused to go away, cutting the margin to six with 1:09 left on a driving layup by Bernard.
The Blue Devils, who sank 30 of 45 free throws in their opener, then sealed it at the foul line.
Randolph added 17 points and 12 rebounds, while Redick had 15 points and five steals.
Duhon kept Duke in it early when its offense struggled, turning the ball over nine times in the opening 7:42.
The point guard had 11 points and six assists in the first half, but he couldn't keep up with Bernard, who sank three 3-pointers in a four-minute span en route to a 21-point half on 8-for-13 shooting.
No. 4 Alabama 80, Middle Tennessee St. 65
Tuscaloosa, Ala. - Erwin Dudley had 17 points, 10 rebounds and three blocked shots as the Crimson Tide muscled their way past the Blue Raiders. Alabama (3-0) led by 22 points with 4:20 left before emptying the bench. Mo Williams had 14 points and five assists, while Kenny Walker also scored 14 points.
No. 10 Oregon 86, Cal State Northridge 77
Eugene, Ore. - Luke Jackson scored 23 points and Luke Ridnour added 19 as No. 10 Oregon struggled to beat Cal State Northridge in the championship game of the John Thompson Foundation Challenge.
Cal State Northridge tied the game late in the second half but could not overcome the defending Pacific-10 champion Ducks (2-0). Chris Davis' layup with 3:17 left tied it at 73 for the Matadors (1-2). Oregon answered with a 5-0 run to go up 78-73, capped by Ridnour's driving layup and foul shot.
No. 12 Connecticut 67, George Washington 55
Hartford, Conn. - Tony Robertson scored 21 points and center Emeka Okafor had 12 rebounds and eight blocks as Connecticut held off George Washington.
UConn (2-0) never trailed but needed Robertson's four 3-pointers in the first half to stay ahead of the hard-charging Colonials (0-1). Ben Gordon had 17 points for Connecticut. Okafor finished with 13 points and a team-high four steals.
No. 15 Kentucky 82, Arizona State 65
Lahaina, Hawaii - Keith Bogans scored 20 points and No. 15 Kentucky opened its 100th season of basketball by beating Arizona State in the first round of the Maui Invitational.
The Wildcats (1-0) opened a 20-point lead in the first half and were up 43-30 after shooting 53 percent from the field in the opening 20 minutes.
Kentucky, which shot 51 percent for the game (29-for-57) advanced to today's semifinals and will play Virginia, which beat Chaminade 86-72.
No. 19 Indiana 84, Massachusetts 71
Lahaina, Hawaii - Tom Coverdale scored 20 points and George Leach added career highs of 19 points and 16 rebounds as Indiana beat Massachusetts in the opening round of the Maui Invitational.
The Hoosiers (1-0) were playing for the first time since losing to Maryland in last season's NCAA championship game and they looked like they hadn't missed a beat except for some shooting woes during the final eight minutes.
No. 23 Miss. St. 81, McNeese St. 65
Starkville, Miss. - Timmy Bowers scored 19 points and Winsome Frazier had 14, helping Mississippi State bounce back from a season-opening loss.
The Bulldogs (1-1), who were knocked off by Louisiana-Lafayette on Saturday, played their second game without Mario Austin. The team's leading scorer and rebounder last season is being held out pending an NCAA eligibility ruling.
Kansas State 82, Michigan 71
Charlotte Amalie, U.S. Virgin Islands - Pervis Pasco scored 14 points to lead Kansas State to its first win in three games this season. While the Wildcats (1-2) missed six of their first seven field-goal attempts, they made 13 of 19 during the remainder of the half.
The Wildcats converted 10 Wolverines turnovers into 12 points during the first half. Michigan (0-3) got no closer than nine points during the second half.
Iowa St. 87, Coe 65
Ames, Iowa - Jackson Vroman scored 23 points and grabbed 10 rebounds in his Iowa State debut and Marcus Jefferson added 16 points as the Cyclones beat Division III opponent Coe.
Copyright 2018 The Associated Press. All rights reserved. This material may not be published, broadcast, rewritten or redistributed. We strive to uphold our values for every story published.