College Station, Texas — A Texas A&M; freshman football player died Monday morning after complaining to his roommate he was having trouble breathing.
Brandon Fails, 18, died at St. Joseph Regional Health Center, school officials said. An autopsy will be performed to determine the cause of death.
The 6-foot-1, 307-pound defensive lineman appeared in four games for the Aggies before undergoing knee surgery on Oct. 22.
"Brandon was a bright-eyed young man with an engaging personality," Texas A&M; coach R.C. Slocum said. "You couldn't be around Brandon for very long without smiling. He was an outstanding football player but an even better person.
"He was the kind of guy you wanted to hug when you got near him," Slocum said. "He was a touchy kind of guy, just a lovable kid."
Slocum said Fails' roommate, tight end Patrick Fleming, told him Fails collapsed as they prepared to leave their room for breakfast in the dorm cafeteria.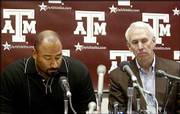 "It would be only speculation at this point as to the cause of his death," Slocum said. "He was fine. He was at practice yesterday afternoon. He did not practice. He was recuperating from knee surgery early in the year."
Fleming told Slocum he and Fails went out to dinner with a friend Sunday evening without any problems.
Slocum informed Fails' parents of their son's death.
Copyright 2018 The Associated Press. All rights reserved. This material may not be published, broadcast, rewritten or redistributed. We strive to uphold our values for every story published.